Sugarland Opens Up About New Taylor Swift-Penned Song "Babe"
By Nicole Mastrogiannis
April 17, 2018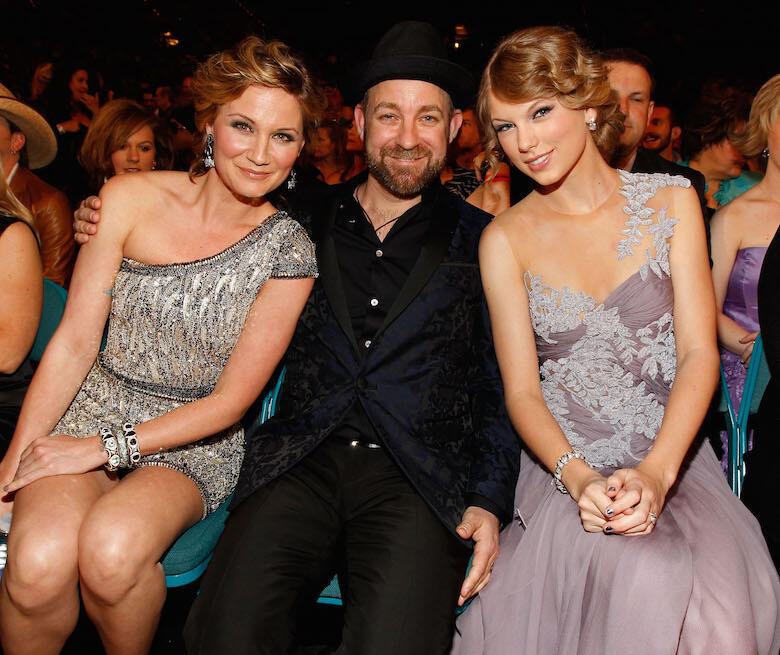 Sugarland is set to release their new album Bigger (their first in eight years) on June 8th, and in case you missed the big track listing reveal, there is only one feature on this record and it's none other than Taylor Swift.
T-Swift penned the track, titled "Babe," and Sugarland's Kristian Bush and Jennifer Nettles have now teased that the song may be inspired by one of Tay's former relationships. Jennifer told Entertainment Tonight at this year's ACM Awards, "I'm going to close my mouth and let her tell that story -- I'm going to let the song tell that story. She's very confessional in what she does with her songwriting. She lives her life out there through it, and you will see."
And when specifically asked if "Babe" was written about one of Taylor's ex boyfriends, Nettles added, "[It] just might be! But you didn't hear that here. We don't know. We didn't ask her, but I'm just saying in the context of the story."
Krisitian explained how the collaboration came to be. He told ET, "She was gracious enough to reach out to us when she heard we were coming back together and doing a record. She said, 'I have a song, would you like to do it?' And we said, 'Uh, yeah!' I was a little anxious. I didn't want to mess it up!"
Jennifer added, "But she loved it and wanted [us] to be a part of it, which is exciting."
Nettles also explained that the song is a "full circle" moment for them, since Swift has been a fan from the beginning of their career. She said, "When she started out, we were just starting out. Like, she has our EP that we did before we were even signed. This little EP that we signed for her. It's a nice full circle, for sure. She's a fantastic songwriter. One of the best."
"Babe" is Taylor's most recent song, stepping back into her country music roots. The now pop superstar also penned Little Big Town's "Better Man," from the band's 2017 album The Breaker, and the track became a huge success for them. And just recently, Swift spent Easter in Nashville, playing at the famous Bluebird Cafe. She said of the intimate performance on Instagram, "I played there for the first time when I was 14. There were bunny ears and [drinks] this time, thanks to Craig Wiseman."
Meanwhile, Sugarland's sixth full-length studio album Bigger is due out on June 8th, and is the first album since 2010's The Incredible Machine. Aside from their Taylor Swift collab, "Babe," Bigger includes ten additional songs, like its previously released title track and "Still The Same."
Sugarland is also set to perform at the upcoming 2018 iHeartCountry Festival by AT&T in Austin, Texas at the Frank Erwin Center. The duo is performing amongst a lineup of country superstars including Luke Bryan, Keith Urban, Dustin Lynch, Cole Swindell, Maren Morris, Luke Combs, Billy Currington, Dan + Shay, Jon Pardi and Brett Young, with more to be announced. And taking on hosting duties once again this year will be Bobby Bones.
Photo: Getty Images
Chat About Sugarland Opens Up About New Taylor Swift-Penned Song "Babe"