Beyonce's Coachella Performance Broke A Major YouTube Record
By James Dinh
April 18, 2018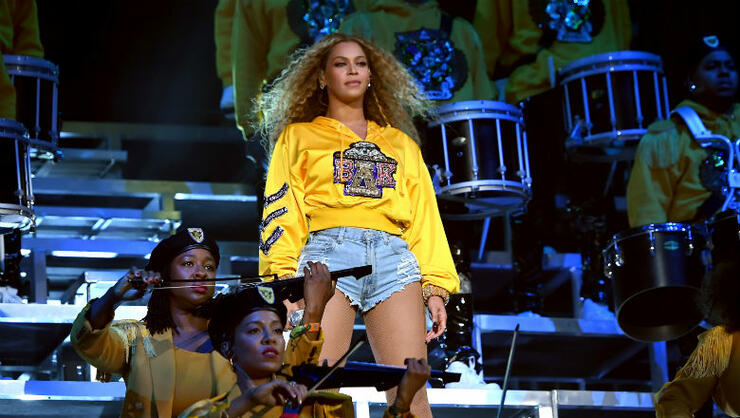 Beyoncé's highly-anticipated set at Coachella, which saw her reunite with Destiny's Child, was one for the books and the pop titan has some record-breaking numbers to back it up, according to a YouTube spokeswoman.
On Tuesday (April 17), it was reported that the entertainer's HBCU-inspired performance pulled in 485,000 viewers on YouTube, which is the biggest draw for a single Coachella set since they first began live streaming the festival eight years ago. That number is also up 75% over last year when Lady Gaga hit the main stage to replace the then-pregnant Beyoncé. Coachella's opening weekend also saw sets from The Weeknd, Eminem and Cardi B, generating 43.1 million live stream views in 232 countries and making it the most-viewed live music festival ever on YouTube.
As you know, Bey made her pop spectacle even more elaborate when she invited Solange, DC3 sisters Michelle Williams and Kelly Rowland, and JAY-Z to her Indio set. On top of the viewership record, she also became the first black woman to headline the annual affair, which is a historic feat in itself.
Bey's mother, Tina Knowles-Lawson, recently admitted that she was mildly hesitant about her daughter's performance in a social media post. "I told Beyoncé that I was afraid that the predominately white audience at Coachella would be confused by all of the black culture and black college culture because it was something that they might not get," Knowles-Lawson said. "Her brave response to me made me feel a bit selfish and ashamed. She said I have worked very hard to get to the point where I have a true voice and at this point in my life and my career, I have a responsibility to do what's best for the world and not what is most popular."
Chat About Beyonce's Coachella Performance Broke A Major YouTube Record