Guns N' Roses Billboard Fuels Rumors of a Full Reunion
By Andrew Magnotta
April 30, 2018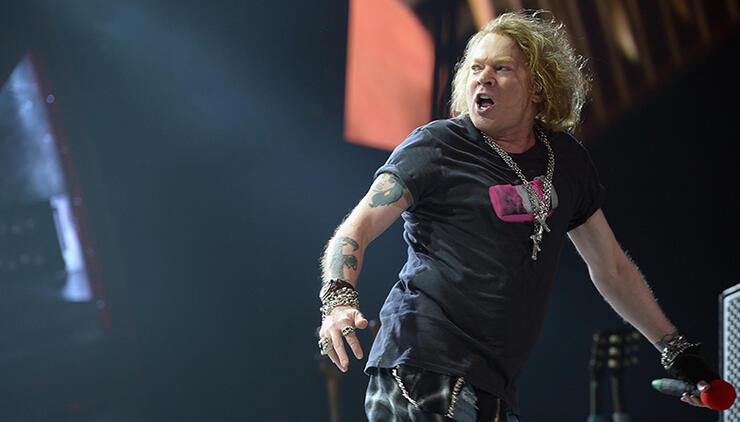 A recently unveiled billboard outside of London, England, appears to be teasing something related to Guns N' Roses' groundbreaking debut album, Appetite for Destruction. Many fans have their fingers crossed that the ad is signaling a coming full reunion of the lineup on the band's debut.
The billboard depicts each of the five skulls from the cover of GNR's debut representing each band member. The web address www.GNR.fm is also emblazoned on the billboard along with #AppetiteForDestruction. The website at the moment consists of a black background with the hashtag and the message "Destruction Is Coming."
There are social media links on the site that all link back to the band's official Twitter, Facebook and Instagram accounts. Furthermore, the site is registered to Universal Music Group, so it's safe to believe the ad relates to some official Guns N' Roses business.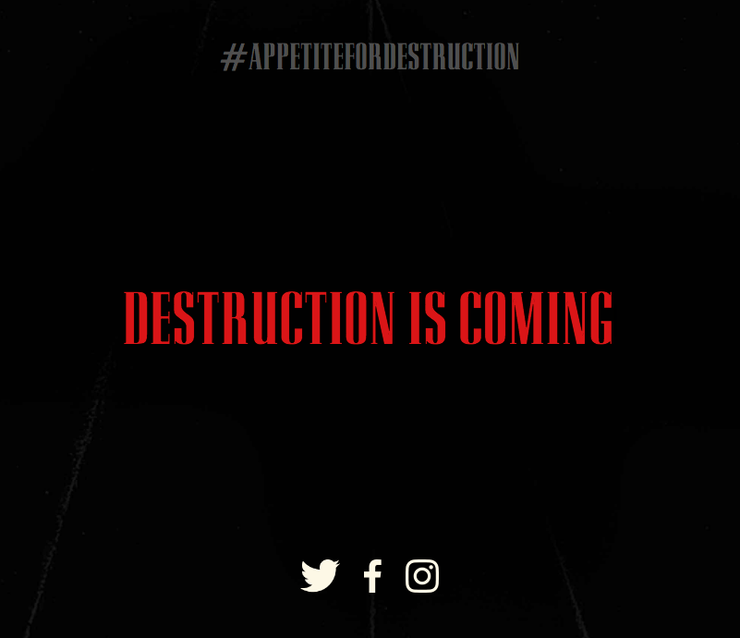 General consensus is that the billboard and website are either teasing a full reunion of the band's Appetite for Destruction-era lineup, including drummer Steven Adler and guitarist Izzy Stradlin, or a big reissue of the 30-times platinum-selling album.
But let's be honest: to tease a mere album reissue with the "Destruction Is Coming" line would be a massive disappointment to the GNR fanbase. Like we said, the album has sold millions upon millions of copies worldwide, it's available on all streaming services, so it's already here.
We know Adler joined the band on stage for some cameos on its Not in This Lifetime Tour. Though he was supposed to be with GNR on its whole tour but for a back injury he supposedly suffered during rehearsal. Stradlin supposedly walked out of a rehearsal with the band due to a contract dispute.
So it seems that all it would take to reunite the most classic era of Guns N' Roses would be Adler's healthy back (he's preparing to go on tour this month) and a more well-compensated Stradlin. And considering the mountain of cash the band earned on the first leg of its tour, spreading the dough around should be within GNR's power.
After all, Guns N' Roses is in the rare position of being able to sell the reunion twice to fans, and that's a helluva way to keep making money.
"Of course, I wish the guys would have wanted to have done the real reunion with me and [guitarist Izzy Stradlin], but just being able to play with them was very exciting," Adler said in February, before urging fans to petition GNR to bring him back.
Thumbnail Photo: Getty Images
Chat About Guns N' Roses Billboard Fuels Rumors of a Full Reunion