Paul Stanley Joins Gene Simmons at Las Vegas 'Vault' Event
By Andrew Magnotta
May 30, 2018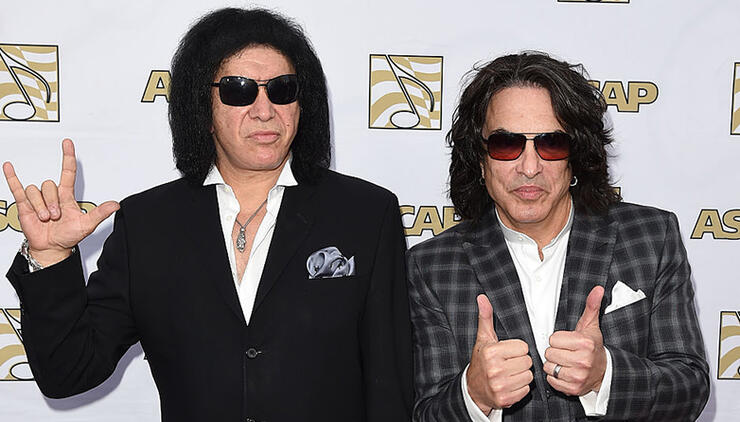 Gene Simmons was joined at his most recent Vault event in Las Vegas by longtime bandmate and KISS frontman Paul Stanley.
Simmons started the event by entertaining the audience by himself, telling stories and playing solo. The KISS bassist even gave the crowd a little bit of one of the first songs he ever wrote, "My Uncle Is a Raft," which he included on his Vault box set.
When Simmons did bring out Stanley, it wasn't before ribbing him about his stage banter and of course one of KISS's most controversial songs, 1979's "I Was Made for Lovin' You." The two greeted one another with a big hug and began trading stories and quips from their KISS career. The pair then recalled how they first met and took fan questions about their long friendship.
"I knew him when he was Stanley...and my mother called him a bum," Simmons said after welcoming his longtime collaborator. "I'm serious."
"Yup," Stanley confirmed before elaborating. "I call his house and I want to him and his mom, bless her heart...She has a thick accent and she thinks the world revolves around him — and that's what he thinks too. I call up and I say, 'Can I speak to Gene?' and she says, 'The king is on the throne.' And I go, 'Yeah, that's nice. Can I speak to Gene?'"
"'The king is on the throne,'" Stanley recalled her repeating. "I go, 'Nice, the king is on the throne. Can I speak to Gene?'"
Gene's mother repeated herself one more time before Stanley got the message. "Turns out, he's taking a dump!"
You can watch some of the fan-filmed footage below.
With Stanley's appearance, Simmons has now been joined by all the current and founding members of KISS at his Vault Experience events.
Simmons was joined by original guitarist Ace Frehley at an event in St. Louis in February and original drummer Peter Criss in March.
The reunion with Criss especially signals that at least Simmons is friendly will all the members of KISS' original lineup, a fact that fans hoping for a reunion won't easily forget as the band contemplates retirement.
Simmons even recently reunited with former KISS guitarist and longtime collaborator Vinnie Vincent at a Nashville event in April.
Simmons' Vault is a specially-packaged box set that contains hours of never-before-released demos and alternate versions from Simmons' long career as a songwriter and recording artist.
The bassist said last year around the time the Vault was announced that it's hard for artists to comprehend the impact they have on people's lives from the stage, so he'd like to enjoy his back catalog with his fans while he's still able.
"I didn't want this stuff to come out after I was dead and gone, if you see what I mean," Simmons said last year. "I want to celebrate it while I'm here with the fans."
Simmons claims it took him about 10 years to assemble all the recordings and get permission to release them from the other musicians involved. Much of the process involved rummaging through old tapes, he says, salvaging what he could and then deciding what was worth inclusion in the Vault.
The result is "the largest box set of all time," he says.
Photo: Getty Images
Chat About Paul Stanley Joins Gene Simmons at Las Vegas 'Vault' Event