'The Four: Battle For Stardom' Season 2 Premiere: Who Kept Their Seat?
By Nicole Mastrogiannis
June 8, 2018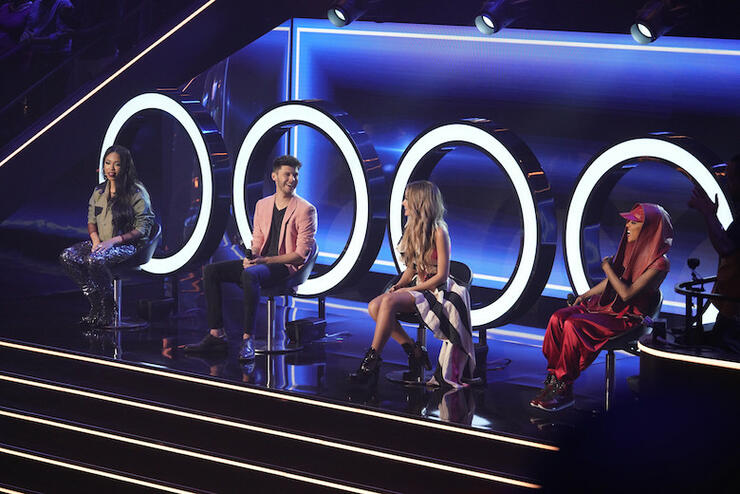 The search for the next big star has finally arrived with the season two premiere of The Four: Battle for Stardom.
Hosted by Fergie, the the series' panel of judges DJ Khaled, Puff Daddy, and Meghan Trainor saw four performers, UK singer/songwriter James Graham, rapper Sharaya J, R&B singer Carvena Jones, and emerging Latin artist Stephanie Zelaya, defend their spots on stage as they were challenged individually by new singers determined to replace them. Some of these original Four contestants kept their seats, and one was booted out by a challengers. So, what went down during the kick-off of season 2? Who was hungry ... but who else was hungrier? Who made an amazing comeback? Find out below.
Kicking off the show, the audience got to meet James, Sharaya (who revealed she was recently diagnosed with breast cancer), Carvena, and Stephanie, as they all shared their personal stories, including all they've accomplished in their respective music careers thus far.
Then, it was time for the first challenger of the night, and it was 24-year-old Chris Vanny from Winter Garden, FL, but originally from Puerto Rico. Chris has two adorable kids, who are his biggest fans, and were their to cheer their dad on, along with Vanny's wife. Chris sang DJ Khaled's Rihanna and Bryson Tiller collab "Wild Thoughts." After his performance, the judges seemed to like Chris (aside from his dance moves), but all seemed to agree that he needed to step it up a little bit more. And after one yes and two no's, the young father did not get the chance to challenge one of the four, and so he went on to walk his path with pride, as Fergie told him.
The next challenger to try and win over the judges and the audience was 21-year-old Majeste Pearson from Tulsa, Oklahoma, whose father is Bishop Carlton Pearson. Majeste's dad and whole family were there to watch her sing Adele's "Someone Like You." Meghan was a big fan, who told her she did a great job and had great vocal range and stage presence. And Diddy told her she had an "incredible voice" and gave him goosebumps. And even before the panel cast their votes, Pearson made it clear she was coming for Carvena ... and she got her opportunity after receiving three yes's, earning the panel's first challenge of the night. Majeste chose to take on Carvena.
First up was Carvena, who sang "Love Don't Live Here Anymore" by Faith Evans, followed by Majeste who performed Sia's "Chandelier." Afterwards, Meghan said that both ladies are amazing, but that if she were to choose someone as the winner, she would choose Carvena. Meanwhile, Diddy didn't like either performance, saying that both competitors chose the wrong songs to sing, but he did tell Majeste she has an incredible voice.
Ultimately, it was up to the audience, and they declared Majeste as the winner, becoming the newest member of the Four, sending Carvena home.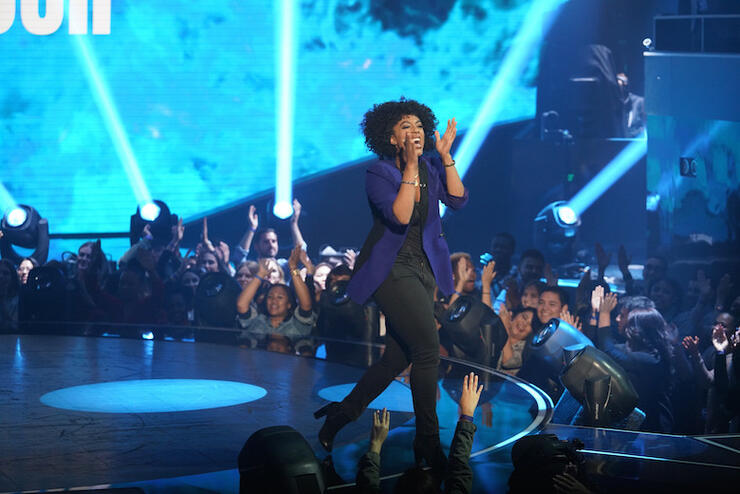 Next up, was 22-year-old Christina Castle, originally from Sydney, Australia, but has now moved to Los Angeles to pursue her music career. Christina sang Ariana Grande's Nicki Minaj collab "Side to Side," and put her own spin on it. Khaled liked what she did with the song, however, Diddy didn't think she had what it takes to take on the Four. In the end, Christina received three no's and had to say goodbye.
Then, 17-year-old Quinton Ellis from Conway, Arkansaw was next up on the chopping block. Ellis is an R&B/soul artist, who also revealed he sells in-demand sneakers online to support his music career. Quinton sang Usher's "U Got It Bad," and he won over the entire room, including everyone on the panel because the teen got three yes's from Meghan, Diddy and Khaled. Quinton became the second official challenge of the night and picked Stephanie's seat to go after.
Stephanie performed first, singing J. Balvin's hit single "Mi Gente," then came Quinton with a cover of Ne-Yo's "So Sick." Diddy thought that Quinton's first performance was better than his second, and told Stephanie that when she performed, she really, truly, defended her seat." Meanwhile, Meghan called Stephanie that "Gutamala Queen," having found so much success in her home country, but that in a few years, she sees Quinton "killin' it." But after the audience voted, they chose Stephanie, and she got to keep her seat on the Four.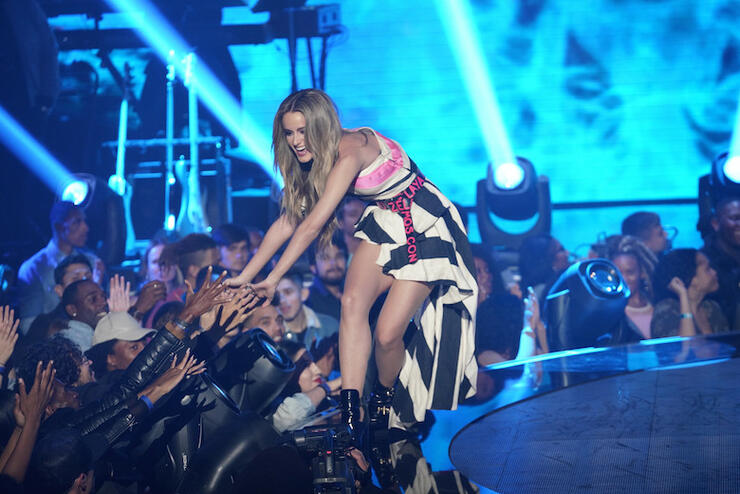 A blast from the past arrived at the Four as the next potential challenger, Rebecca Black. Rebecca is best known for her viral "Friday" video from years ago, but the now 20-year-old is looking to take her music career to new heights. Meghan was already fangirling after Rebecca came out on stage where she told her story to Diddy and Khaled, then she sang *NSYNC's "Bye Bye Bye." And with three blue rings, Rebecca became the next challenge, and she chose to go after James's chair.
Singing first was James, who performed Donny Hathaway's "A Song For You," and Rebecca followed with Natalie Imbruglia's "Torn." Afterwards, Diddy proclaimed it was "getting hot" in there, and took off his jacket, followed by Khaled, who told them both that they were amazing. Meghan told Rebecca she was proud of her and her performance, and to James that artists like him are needed on the radio today. Then, it was time for the audience to vote, and they declared James the winner of the challenge, leaving Rebecca to say "bye bye bye." But before she left, Rebecca tearfully said, "I never thought I would be able to be here and it means so much. I felt like there was a 13-year-old little girl stuck so trapped for so long, thinking that nobody else would be able to look at her differently. Thank you guys so much for giving me a chance."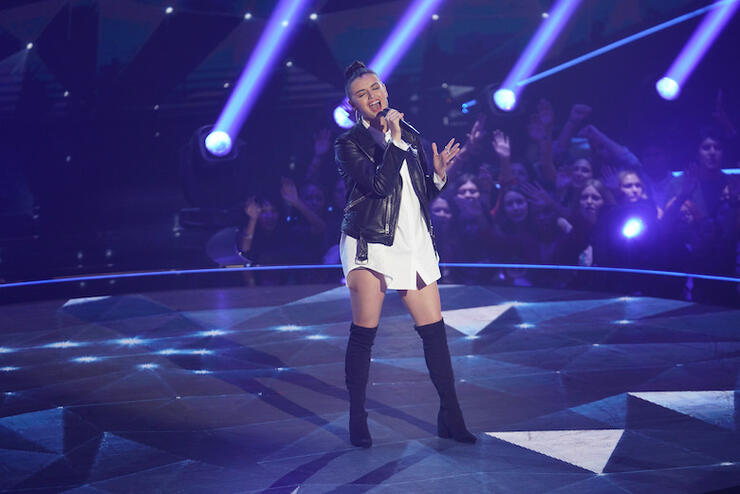 And with that, all four chairs were locked for the night. Here are your final Four of the who will take their talents to next week's episode: Majeste Pearson, Stephanie Zelaya, James Graham, and Sheraya J.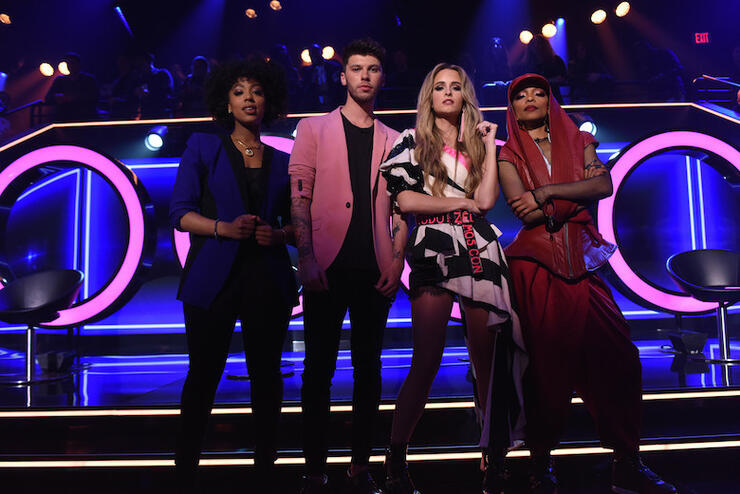 What an intense first episode! As always. And the stakes are extremely high. Not only will the winner's career launch with the help of the judges, they will also become iHeartRadio's "On the Verge" artist; an artist development program supporting the winner with airplay across iHeartMedia radio stations nationwide. This program has helped launched the careers of artists like Sam Smith, Fifth Harmony and Nick Jonas, among others.
Who's the next super star?! Stay tuned to The Four: Battle for Stardom every Thursday at 8/7c on FOX.
Photos: 21st Century Fox
Chat About 'The Four: Battle For Stardom' Season 2 Premiere: Who Kept Their Seat?