Watch Megadeth and Avenged Sevenfold Pay Onstage Tributes to Vinnie Paul
By Katrina Nattress
June 26, 2018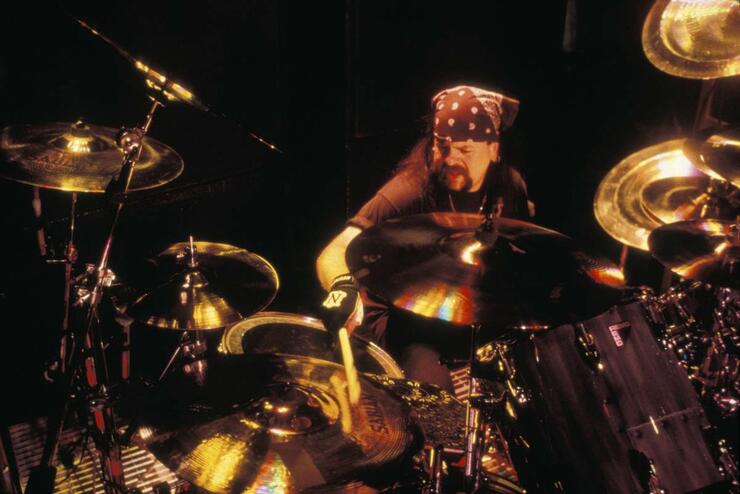 On Saturday (June 23), the rock world mourned the death of Vinnie Paul Abbott. The Pantera drummer was just 54 years old when he passed away, but he left a legacy behind.
In the days that have passed, his former bandmates have said their goodbyes, and friends like Kid Rock have been paying tribute. Groups that consider Pantera influential have also paid their respects, including Megadeth and Avenged Sevenfold.
Megadeth dedicated a song to the late percussionist during their set at France's Hellfest over the weekend.
"This next song we're gonna do for you, we played it last night for the first time in nearly 20 years," singer Dave Mustaine said. "We haven't played this song for a very long time and we dedicated it to a very old friend of mine—all of ours—who passed away. This song is dedicated to you Vinnie. This song is called 'My Last Words.'"
Avenged Sevenfold commemorated the drummer at the same festival by walking out to to a montage of photos of Paul soundtracked to Pantera's song "Walk."
The band later dedicated a song to Vinnie.
"Most of our friends, we were all in Belgium last night,' singer M. Shadows told the crowd. "We got in very late, and I woke up to the worst text message I could get which was about Vinnie Paul passing away last night. There's not much we can do. We all understand that this life is brief, we all understand that our friends are gonna go at some point; All we can do is honor him the best way we can. Tonight we do that by playing 'Hail to the F---in' King' for Vinnie Paul."
Watch the tributes below.
Though it hasn't been officially confirmed, Vinnie Paul is thought to have died from a massive heart attack in his sleep on Friday (June 22).
Photo: Getty Images
Chat About Watch Megadeth and Avenged Sevenfold Pay Onstage Tributes to Vinnie Paul