Azealia Banks Accuses Beyoncé Of Stealing Her Choreography
By Peyton Blakemore
August 5, 2018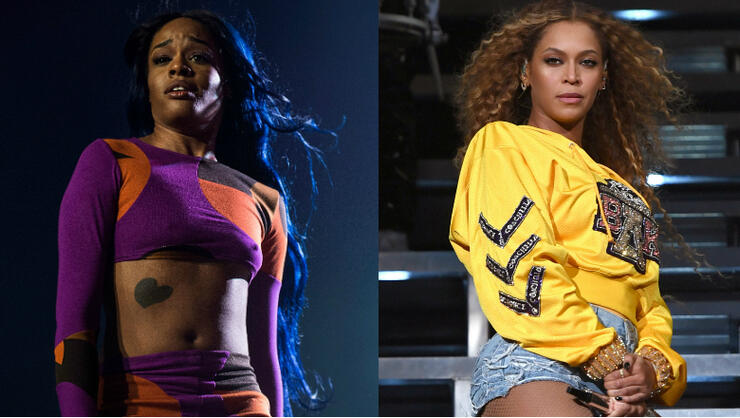 Azealia Banks is back to attacking people on social media — her latest target, Beyoncé.
On Friday (August 3), the controversial rapper, who has become known for her random social media tirades, took to Instagram to accuse Queen Bey of using stolen choreography that was originally featured in her "Count Contessa" music video.
"I realised that my ex dancer Ashanti choreographed for Beyoncé and stole the original choreography @gypjaq made for count contessa," Azealia wrote on her Instagram Story, before advising Beyoncé give her a job. "Beyoncé needs to get over herself and just hire me cause even thought Coachella was cute… it was still more of the same."
Azealia didn't end her social media rant there. She then alleged that Bey has a habit of ripping off female artists.
"Like Beyoncé loves to push the female empowerment shit but is just always trying to steal from talented women and out do them...but she never really does," Azealia wrote. "I really hope she gets real with herself soon and humbles herself enough to accept the vision and full projects women who admire her put together for her."
She added, "Like we don't need anymore Beyoncé thot moments. Nobody needs Beyoncé doing #OOTD's like she's some up and coming fashion toast bitch...It's like what's next Beyonce's Fashion Nova collaboration???? I have no clue why she wants to be a regular b*tch. It makes me sad."
This wasn't the first time Azealia has attacked Beyoncé on social media. Back in 2016, following the release of Lemonade, the rapper claimed that Bey exploited black women's suffering for the album.
"She's purposefully strayed away from political discourse her entire career to make sure she didn't alienate white ppl," she tweeted. "And now that black women's suffering is a a national conversation, she wants to hop on it and make our suffering 'trendy'...she needs to stay under Jay-z's foot where she belongs, and stay out of the creative woman's way."
"She's not an artist, she's a poacher. she takes food out of darker skinned women's mouths & pretends to be inspired," Azealia continued. "Beyonce spent her entire career purposefully avoiding "blackness" but now that it's a trend she's trying to capitalize on it."
Photo: Getty Images
Chat About Azealia Banks Accuses Beyoncé Of Stealing Her Choreography