Meghan Trainor Announces She's Pushing Back Her New Album
By Paris Close
August 5, 2018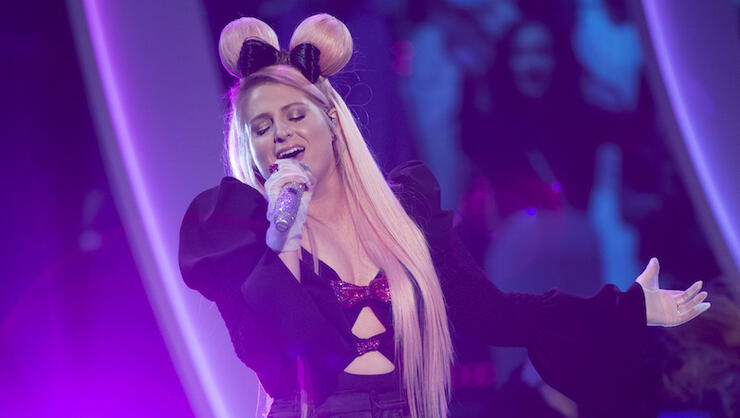 Bad news, pop boppers: Meghan Trainor is pushing back her new album. The singer, whose third studio project, Treat Myself, was initially scheduled to release on August 31, announced her choice to delay the record on Instagram this Saturday (August 4).
"This past year has been one of the most exciting of my entire life. I got engaged to the love of my life, Daryl! I got to hang out with Diddy, DJ Khaled and Fergie on The Four, and I released five new songs that I'm absolutely obsessed with," the 24-year-old started her message to her 9 million followers, before explaining the creative reason why she's pressing pause on releasing the full-length for the time being.
"I'm in such an amazing place and I can't stop writing songs… I've decided to move my new album TREAT MYSELF until I get everything out of my head and recorded in the studio," she continued. "I've never been more excited for all of you to hear my new music. Thank you for your continued love and support. All the ways, 💝 MTRAIN."
While there's no telling when Treat Myself will officially release, the Four judge has been patiently releasing a handful of singles to tide fans over until then. After issuing the project's lead single "No Excuses" in March, Trainor followed up with a double dose in the form of dance ditties "Let You Be Right" and "Can't Dance" over the summer.
Trainor previously discussed the success of the songs with us ahead of her iHeartRadio Wango Tango show back in June. "'No Excuses' is pretty popular right now. 'Let You Be Right' is a nice summer banger you can play in your car, let the windows down and feel cool," she said. "Can't Dance. Everyone is loving 'Can't Dance.' It's a dance track for sure, and a lot of people have said summer jam, so we'll see."
Photo: Getty Images
Chat About Meghan Trainor Announces She's Pushing Back Her New Album