Beyoncé & Jay-Z Dedicate Detroit Concert To Aretha Franklin: 'We Love You'
By Lauren Crawford
August 14, 2018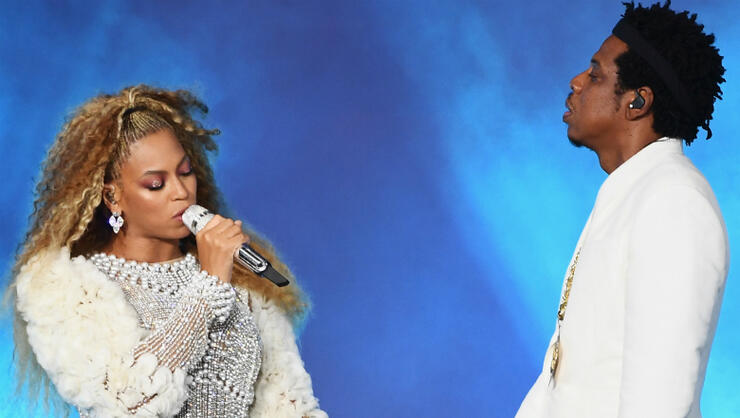 Beyonce and Jay-Z had Aretha Franklin on their minds during the latest stop on their "On the Run II Tour" in Detroit — the Queen of Soul's hometown.
The Carters dedicated their concert at Ford Field to the ailing musician on Monday (August 13) night, just two days after Showbiz 411 reported that the 76-year-old singer was "gravely ill." CNN later reported that the "Natural Woman" singer is in hospice, or end-of-life, care at her home in the Detroit area.
"This show is dedicated to Aretha Franklin," Beyoncé told the crowd shortly after her opening performance. "We love you and thank you." The "On The Run II Tour" opener DJ Khaled also tributed his set to the music legend, leading the crowd to a rendition of her hit "Respect."
"Make some noise for Aretha Franklin," he said.
Despite having a misunderstanding in 2008 — Beyonce referred to Tina Turner as "the Queen" at the 2008 Grammys, which upset the Queen of Soul, Aretha — the two music legends have both admitted to being fans of one another.
Back in 2014, Aretha even covered Beyonce's former group Destiny's Child's hit single "Survivor" on her album, Aretha Franklin Sings the Great Diva Classics.
"I heard [Beyonce] was a fan of mine, so we've got a mutual admiration society going," she told Meredith Vieira during a visit to her talk show in 2015. "She's a hard worker. That's what I really like about her. You can see it in her presentation that she has put some time and energy into it... She's a Virgo. Virgos are very hard workers, I've noticed that."
Chat About Beyoncé & Jay-Z Dedicate Detroit Concert To Aretha Franklin: 'We Love You'