Korn's Jonathan Davis Comments About His Wife's Death
By Dave Basner
August 23, 2018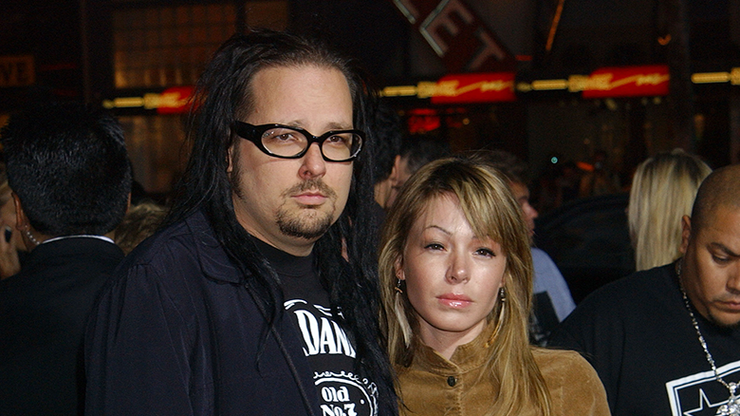 On August 17th, Korn singer Jonathan Davis's wife, Deven, died. While the cause of death has not been revealed, Deven had reportedly been living in a sober home before she passed away. Now, Jonathan is speaking about his spouse and the years leading up to her death.
In a post on Instagram, the rocker explained that he wanted to set the record straight about Deven's passing since "there has been a lot of speculation over what really happened" to her. Jonathan wrote,
"Over the past decade, my wife has been very very sick. She had a serious mental illness and her addiction was a side effect. I loved her with ALL of my being. When she was her true self, she was an amazing wife, amazing mother and amazing friend. Deven had a huge heart, and she would never intentionally hurt her children or anyone that she loved. She was an incredibly nurturing, giving, loving and hilarious person. She was full of life and joy, and she would do anything to share that with those around her."
He went on to reveal he "tried to hide what was going on for so long in order to protect her," but explained that he is speaking out now because, "she is the reason I have advocated so hard for those struggling with their mental health. I want her story to inspire people to reach out for help, and not to be afraid or hide from their illness."
Jonathan told his fans:
"If you know someone with a mental illness, have compassion and empathy and know that they are not bad people, they are suffering," he wrote. "I want this to inspire change. I want California law to change to help people like me help others get the help they need. How can someone who is so sick realize themselves that they need help? She wasn't well enough to understand how sick she really was and she wasn't able to get the help for herself that she really needed. This shouldn't have to happen to other mothers, or anyone for that matter."
After explaining how he'd "give anything" for his kids to "have their mother back," he address his wife, writing:
"Deven, I love you bebe. I'll never love anyone the way I loved you and I'll never get over losing you. I promise I'll do everything in my power to raise our precious boys the right way, teach them the good values you wanted them to have so badly and to break the cycle of abuse we both experienced as kids. I'll do everything I can to make your dreams that you had for the future come true in your memory. The tattoo down your back, from the poem I wrote for you when we started dating, said, 'Even in death, I'll be by your side my love,' in German. I swear one day I'll be there with you by your side when my ride here on earth is over. I love you, Luber."
The pair married in 2004 and while Jonathan filed for divorce in 2016, he obviously stayed very close with his wife. They had two sons, 13-year-old Pirate and 11-year-old Zeppelin.
Photo Credit: Getty
Chat About Korn's Jonathan Davis Comments About His Wife's Death