Gene Simmons Warns Vinnie Vincent About KISS-Related Trademark
By Andrew Magnotta
September 4, 2018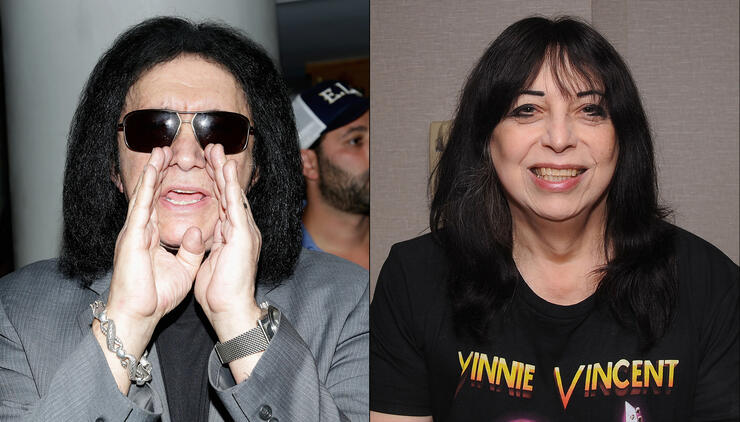 Gene Simmons is warning former KISS guitarist Vinnie Vincent about proceeding with a recent KISS-related trademark application.
The KISS co-founder says his ex-bandmate's recent application to trademark 'Vinnie Vincent's KISS' could lead to more legal entanglements between the two camps.
Vincent is planning to return to performing live this fall after almost 30 years off stage. He has promised fans at several events this year that he will tour again.
The 'Vinnie Vincent's KISS' application suggests Vincent is planning to capitalize on his brief KISS membership with live performances of songs from the band's Lick It Up period.
That of course won't sit well with Simmons or KISS frontman Paul Stanley, who are notorious for trademarking all things KISS-related (and many things not).
"There's something called the classic failure mechanism, which I was told by doctors and everything — I'm not saying he is one," Simmons said in a recent interview when asked about Vincent. "But there are people who simply cannot handle when things are starting to go their way — success — so they torpedo it by making stupid decisions to make sure they don't succeed, so they can deal with that."
Vincent and KISS were at-odds for years, as the guitar virtuoso reportedly sued his former band (and lost) dozens of times over writing credits and allegedly unpaid royalties.
Still, Vincent and Simmons seemed to repair their friendship this past spring when Vincent guested on one of Simmons' Vault tour stops in Nashville.
"Vinnie is a great guy, very talented, and maybe, in my view, his own worst enemy," Simmons added.
It's unclear whether Vincent's application was accepted or how he intends to use 'Vinnie Vincent's KISS.' He has also suggested that he may revisit material from his Vinnie Vincent Invasion band on the road.
Photos: Getty Images
Chat About Gene Simmons Warns Vinnie Vincent About KISS-Related Trademark