Paul Simon Thinks He's Done Writing New Songs
By Andrew Magnotta
September 5, 2018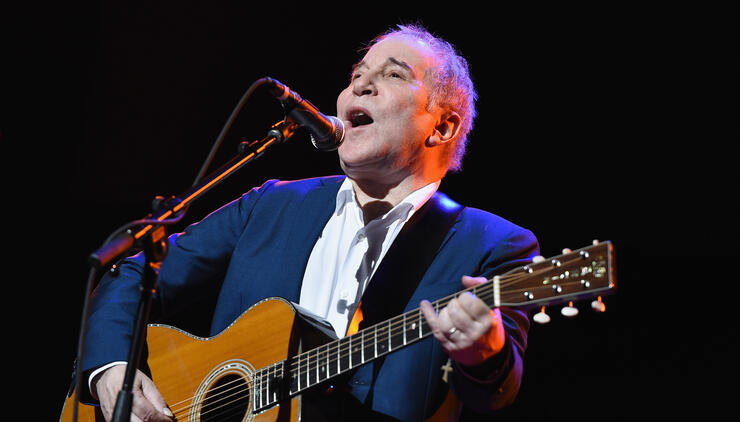 While Paul Simon has maintained that he very well may perform again after the conclusion of his farewell tour, he says he doesn't see himself again writing music.
The legendary singer/songwriter told NPR in a recent interview that a strange feeling came over him when he completed his 2016 album, Stranger to Stranger.
"Well, I haven't written a new song in a couple of years now," Simon said. "I think after Stranger to Stranger, a funny thing happened when I finished — I literally felt like a switch clicked and I said, 'I'm finished.'"
Simon has 14 solo albums to his name, plus five more with Simon and Garfunkel.
His latest studio project, In the Blue Light, comes out Friday. The album is a compilation of re-imagined versions of old songs. It signals that while Simon may be done working out new material, he isn't closing the door on creativity.
He told NPR that In the Blue Light offered him a chance to strip down or build up some of his favorite work.
"'Darling Lorraine,' which I think is one of the best songs that I've ever written, the first time that I did it, the arrangement was so interesting and eclectic that I thought you couldn't follow the storyline, because you were distracted by the sounds," he explained. "So this time, I came and was very careful to try and allow for the storyline to go right through because if you don't follow the storyline then the ending doesn't have its power."
As for plans after his farewell tour ends September 22 in his hometown of Queens, New York, Simons says he wants to see the world — just without the band.
"I've traveled a lot but there's a bunch of place I haven't been — the South Pacific Islands, Cambodia," he said. "At the end of my life, if I'm fortunate enough to have a graceful non-painful ending, I'd rather say I had a great life than I had a great career."
Simon announced his farewell tour in February in a statement clarifying his future.
He assured fans that he's not losing his ability to perform — he can still sing and play just as well as he used to — but his ambition to tour and record has waned in recent years, especially since the death of his longtime lead guitarist Vincent N'guini, who passed away last December.
Losing N'guini put things into perspective, he explained.
"His loss is not the only reason I've decided to stop touring, but it is a contributing factor," Simon said. "Mostly, though, I feel the travel and time away from my wife and family takes a toll that detracts from the joy of playing. I'd like to leave with a big Thank You to the many folks around the world who've come out to watch me play over the last 50 years."
Simon will be donating all personal net-proceeds from his final show at Flushing Meadows Corona Park to charity.
Photo: Getty Images
Chat About Paul Simon Thinks He's Done Writing New Songs