Metallica Announces Super Deluxe Reissue of '...And Justice for All'
By Andrew Magnotta
September 6, 2018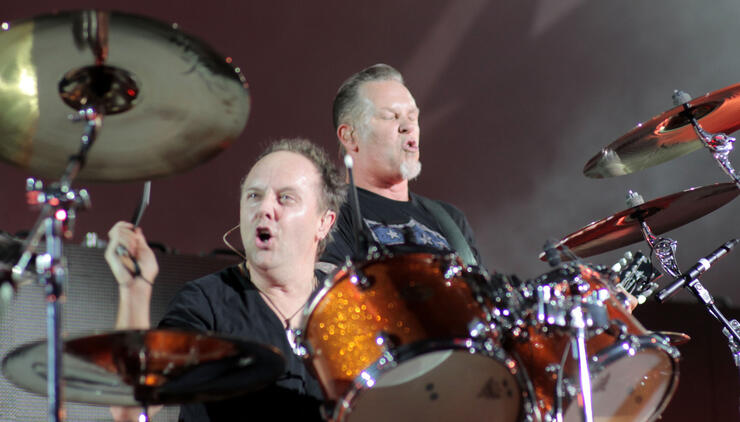 Metallica has announced a release date for the next in its series of remastered reissues of the band's legendary catalog.
The 30th anniversary edition of the Rock and Roll Hall of Famers' 1988 album ...And Justice for All will be available November 2, via the band's Blackened Recordings label.
The album was re-mastered for advanced sound quality and will be available in multiple physical and digital forms, including an Expanded Edition box set complete with unreleased demos, rough mixes, live tracks and never-before-seen photos. The band began taking pre-orders Thursday via its official website.
But everyone wants to know: is there more of Jason Newsted's bass on this album?
Based on what we can/can't hear on the remastered version of "Dyers Eve," the answer to that question is solid no.
While the remastered song sounds cleaner and more clear than ever, hearing Newsted's bass is still very much a struggle. The spirit of the original album's unconventional sound is very much still intact.
...And Justice for All was the first Metallica album followed the death of bass god Cliff Burton and the first with Newsted.
Much has been written about why Newsted parts — which were "brilliant" according to one producer — were nearly erased in the final mix of the record. But the generally agreed-upon story is that drummer Lars Ulrich was behind it, not wanting bass interfering with his drum sound.
Engineer Steve Thompson, who mixed the album, made headlines last year when he publicly begged the band to let him remix the album for the remastered version the way he originally wanted to mix it.
In recent years, Ulrich and frontman James Hetfield have expressed apathy about overhauling the album, despite the decades of complaints. Hetfield has called the album "a product of a certain time in life; [the songs are] snapshots of history and they're part of our story."
Nevertheless, it's possible some of the rough mixes or demos will provide more clarity into what Newsted brought to the ...And Justice for All sessions.
The band also released a previously-unheard live version of "Eye of the Beholder," on which Newsted's snarling bass is perfectly audible.
You can listen to both tracks below!
Photo: Getty Images
Chat About Metallica Announces Super Deluxe Reissue of '...And Justice for All'