Model Defends Dangerous Surgery To Get Biggest Butt In The World
By Dave Basner
February 18, 2019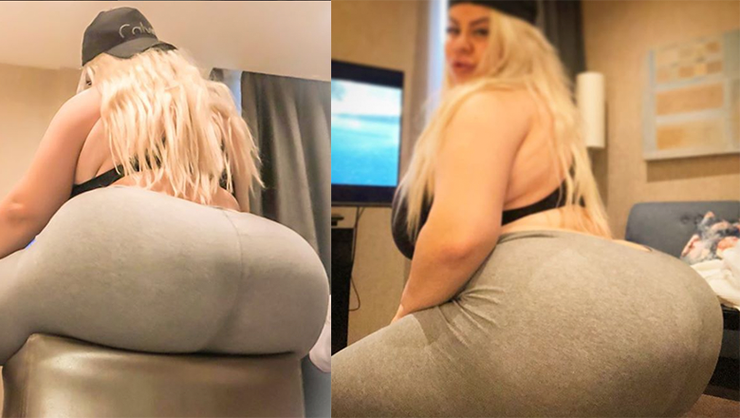 You often read about people who go to great lengths to get the body they want, maybe by going on an extreme diet or adopting a crazy exercise routine, but one model in Sweden is engaging in some very risky behavior to be in the exact shape she wants. Her name is Natasha Crown and her hope is to be crowned the woman with the world's biggest butt. 
Currently, her behind measures 84 inches wide, but she wants it to be bigger and is aiming to get a Brazilian butt lift to achieve it. However, doctors told her to undergo the procedure, the 296-pound Natasha needs to gain another 56 pounds, so she's been eating pizza, pasta and Nutella by the pound to pack on the fat that surgery will redistribute to her behind.  
Crown told The Sun, "The more I gain the better the bum will be. I'll do whatever it takes to have the world's biggest bum." She also spoke about the current condition of her butt saying, "Maybe I have body dysmorphia or something but I don't feel like it is even that big. I definitely want bigger."
As for why she wants such a big booty, Natasha explained, "I just love the feel of having a big bum. When I walk, I feel all the jiggling, jiggling, jiggling... That is the best feeling I think. My bum makes me feel sexy and makes me feel powerful."
It won't be her first surgery - she's had three butt lifts, plus breast implants, lip fillers and other cosmetic procedures. In a TV interview overseas, Natasha said her family isn't thrilled about her obsession over her body, noting, "They are really concerned about me doing all this surgery and doing so much. They think I am going to die because I am gaining so much, they think that is not healthy."
However, Crown feels she is staying healthy, stating, "People should know, that I am exercising every day I am not just eating. To maintain the muscles in the right place I am exercising. I feel healthy. To maintain the muscles in the right place you have to exercise a lot."
There are some issues though - she can't run because the size of her butt, and she can't sleep on her back either. 
Natasha does have plenty of fans though - 140,000 people follow her on Instagram and she is making money from being an Internet celebrity. You can follow her here. 
Photo Credit: Instagram/Natasha_Crown_Official__ 
Chat About Model Defends Dangerous Surgery To Get Biggest Butt In The World