Nicki Minaj Calls Fight With Cardi B 'Mortifying' & 'Humiliating'
By Peyton Blakemore
September 10, 2018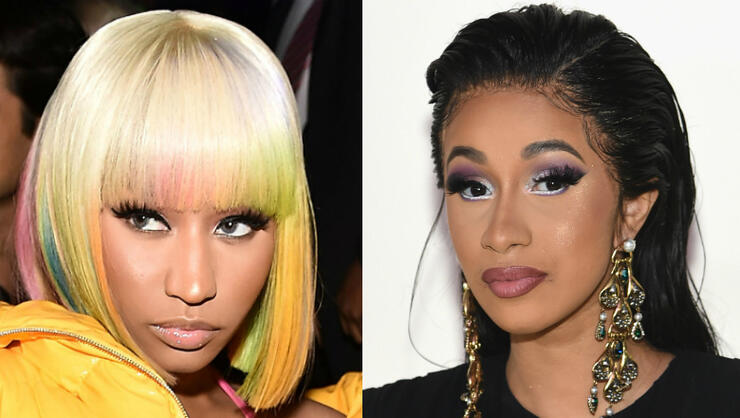 Nicki Minaj is not one to mince words. On Monday (September 10), the "Chun-Li" rapper addressed her fight with Cardi B, which occurred at the Harper's Bazaar ICONS Fashion Week party on Friday (September 7).
"The other night, I was a part of something so mortifying and humiliating to go through in front of the upper echelon … people who have their lives together," Nicki said on her radio show. "The way they passed by looking at this disgusting commotion I will never forget. I was mortified. I could not believe how humiliating it all felt … how we made ourselves look."
The "Barbie Dreams" rapper then dived into the claims that Cardi made following the incident.
"I wanna say that I would never discuss anyone's child," Nicki said, referencing Cardi's claims that the fight started because Nicki made disparaging remarks about her newborn daughter, Kulture. "I would never talk about anyone's child or parenting. It's so crazy to me that people always need to make [me] the bad guy. When you have to say that I said or did something that I never said or did … I am not a clown. That's clown sh*t." Adding, "I was wearing a Gaultier gown off the motherf**in' runway."
Nicki wasn't done defending herself. The "Chun-Li" rapper additionally threw more shots at Cardi, claiming the 25-year-old rapper has said both racist and sexist comments in the past and slept with DJs to get her music played.
"You came into my f**in culture. I never had to bang a DJ to play my songs. You call black women roaches. Real b*tches never attack a woman. You're angry and you're sad," she continued. "This is not funny. Get this woman some f**in help. This woman's at the highest point in her career and she's throwing shoes?"
As previously reported, Cardi was caught on camera throwing a shoe at Nicki, before being escorted out of the event. Following the incident, Cardi took to Instagram to give her side of the story. "I addressed you once in person, and every time you copped the plea!! But when you mention my child, you choose to like comments about me as a mother, make comments about my abilities to take care of my daughter is when all bets are f**kin off," she wrote. "I've worked to hard and come too far to let anybody f**k with my success!!!!"
Photo: Getty Images
Chat About Nicki Minaj Calls Fight With Cardi B 'Mortifying' & 'Humiliating'