Heffron Drive Reveals Which Artist They Would Stage Dive With in Las Vegas
By Taylor Fields
September 18, 2018
It's officially time for the 2018 iHeartRadio Music Festival, and kicking off all of the festivities on Friday evening (Sept. 21) is a performance from this year's Macy's iHeartRadio Rising Star winners, Heffron Drive.
You may already recognize Heffron Drive's Kendall Schmidt if you were a Big Time Rush fan, and if you went to any BTR shows, you might also recognize his HD counterpart Dustin Belt, the band's touring guitarist. The two have joined forces as a pop/rock duo, Heffron Drive, and over the last several years, they've written and released music together, including their 2018 singles "Hot Summer" and "Separate Lives."
Heffron Drive will take the stage a T-Mobile Arena in Las Vegas, ahead of the iHeartRadio Music Festival's star-studded lineup, which includes Justin Timberlake, Fleetwood Mac, Childish Gambino, Jack White, Carrie Underwood, Mariah Carey, Imagine Dragons, Jason Aldean, Sam Smith, Luke Bryan, Lynyrd Skynyrd, Panic! At The Disco, Kelly Clarkson, Shawn Mendes, Kygo, Rae Sremmurd, and Logic.
Fans will be able to tune in to a live stream of both nights of the iHeartRadio Music Festival via CWTV.com and The CW App, as well as a two-night television special on October 7th and October 8th from 8 p.m. to 10 p.m. ET/PT. Additionally, the Daytime Stage at the iHeartRadio Music Festival will be live streamed via HondaStage.com, beginning at 2pm ET/11am PT on September 22nd.
We recently caught up with the guys ahead of their set at the festival, and asked them about which artists on the lineup they would do various Vegas activities with. Take a look below.
Would do a stage dive with...
Kendall: "Jack White."
Dustin: "Mariah Carey. I mean, I feel like she would be the perfect person to do it with."
Kendall: "I thought Jack White because I feel like he's probably done it before. Like he's got a lot of experience."
Dustin: "What? Mariah hasn't?!"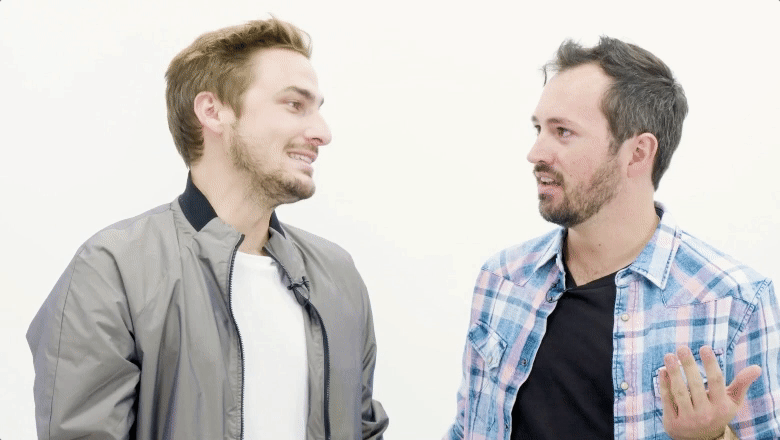 Would get a 2 am lobster dinner with...
Dustin: "Definitely, Rae Sremmurd."
Kendall: "I was thinking Childish Gambino. I feel like he would go great in a dimly lit place, cracking open juicy lobsters."
Dustin: "And, have like really, really great conversation about some worldly things like, I don't know, like the birth of Encyclopedias or something. He seems very intellectual."
Would go "all in" with...
Dustin: "If I was going to go 'all in' with somebody in Vegas, it would definitely be Justin Timberlake because I think he knows all the right places to go."
Kendall: "I would say Logic. Because I would think that maybe if we're going 'all in,' it was for a logical reason. You get it? Because his names Logic."
Would do an Elvis impersonation with...
Kendall: "Well, I'd say Shawn Mendes, 'cause I guess he kind of looks a little bit like a young, young Elvis?"
Dustin: "Well, I would say Stevie Nicks because she's probably met Elvis back in the day. So she would be like one of the close ones that could like really ... she would know."
Kendall: "What's your Elvis impression?"
Dustin: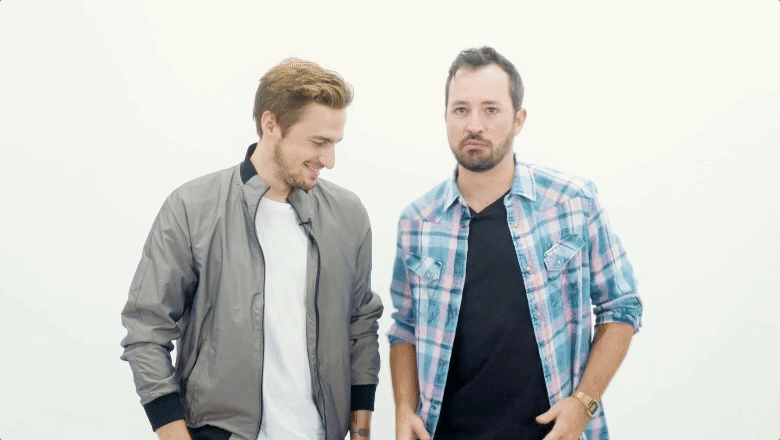 Is most excited to meet...
Kendall: "Well, from all of my emo days growing up, which is where I really developed my musical stylings, Panic! at the Disco would be pretty great. Brendon Urie would be awesome."
Dustin: "I'll say Luke Bryan, because all the girls love Luke Bryan, and if I'm standing next to him, you know, they're going to be looking at me too. So, I'll just be like, 'Oh, yeah, you know. Oh, me and Luke? Oh, yeah, [we go way back to] high school. Ha! Crazy.'"
Would collaborate with...
Dustin: "I would definitely do a collaboration with Imagine Dragons."
Kendall: "That would be great. We're in agreement on that. That would be really cool."
Dustin: "Yeah. Have to go meet Dan [Reynolds]."
Kendall: "Imagine Heffron Dragons? Imagine Driving Heffron Dragons? Imagine it! Imagine Driving Heffron Dragons."
Dustin: "It's like Game of Thrones, but like the cheap version."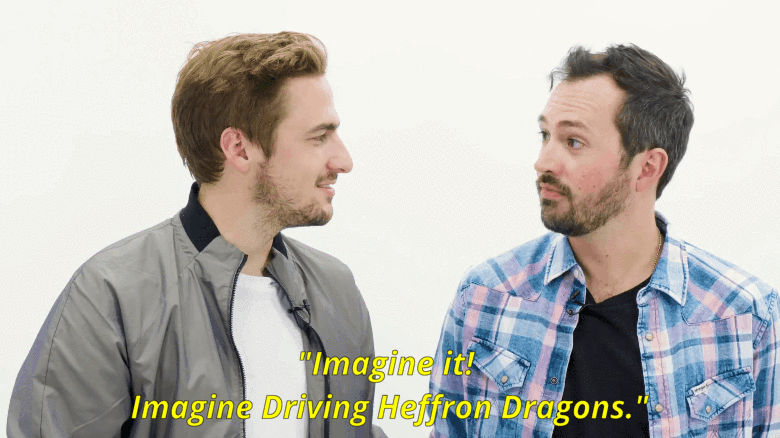 Chat About Heffron Drive Reveals Which Artist They Would Stage Dive With in Las Vegas