Saweetie Addresses Quavo Dating Rumors: 'I Enjoy His Company'
By Peyton Blakemore
September 27, 2018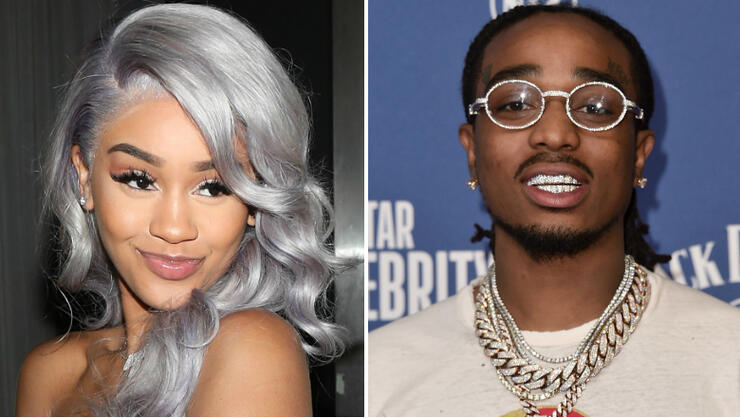 Saweetie and Quavo may or may not be more than friends.
On Wednesday's (September 26) episode of The Real, Saweetie continued to fuel romance rumors when she didn't confirm or deny if she's in a relationship with the "Workin Me" rapper.
"I can keep it real," she said in response to Jeannie Mai's question about her relationship status. "Me and [Quavo] have worked together — you guys have seen the 'Workin' Me' video. It was a pleasure to ...," she said before stopping to laugh at a photo of Quavo that popped up behind her. "It's a nice picture," she shared before explaining why. "Because he's cute." The "ICY GRL" rapper added, "We worked together and ever since then we've been getting to know each other. I enjoy his company."
Relationship rumors have surrounded the pair since Saweetie starred in Quavo's "Workin Me" music video last month. The two were then spotted together at New York Fashion Week a few weeks later.
The jury isn't only out on Quavo's relationship status, many are wondering if the "Lamb Talk" rapper is releasing his solo album, like he said he would, this month.
"T H I S M O N T H Q U A V O H U N C H O T H A A L B U M," he captioned a photo that showed his hands with Quavo Huncho spelled out in diamond rings a few weeks ago. He also wrote in his Instagram story, "This month is mine." However, with the month coming to an end, and still no Quavo album, many have questioned if he's delaying his debut solo debut because Kanye West and Lil Wayne announced that their albums are also dropping this month.
As any music fan will tell you, artists want the number one spot on the Billboard 100 Chart. And since Wayne announced his highly-anticipated album Carter V, which has been over six years in the making, Kanye even tweeted that he is okay with his album debuting at number 2 behind it. "We're releasing Yandhi Saturday night," Kanye wrote on Twitter Thursday (September 27). "We know it will come in number 2 to my brother Lil Wayne and that's lovely." He added, "The universe needs Ye and Wayne music at the same time."
Photo: Getty Images
Chat About Saweetie Addresses Quavo Dating Rumors: 'I Enjoy His Company'