Quavo's Solo Album Will Feature Some Of The Biggest Names In Hip-Hop
By Peyton Blakemore
October 2, 2018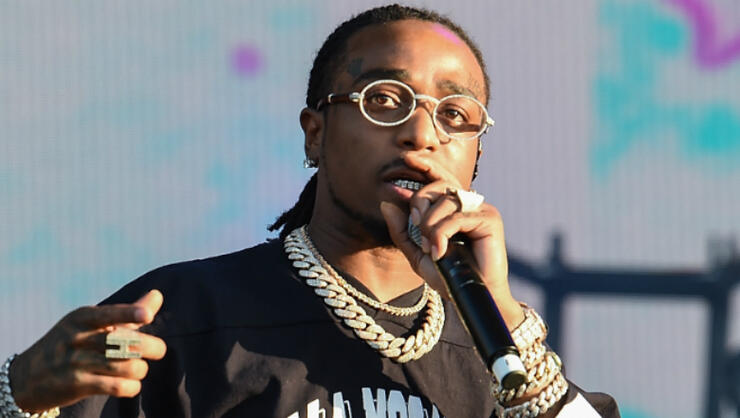 Quavo Huncho will definitely be worth the wait.
On Monday (October 1), Quavo teased his upcoming solo album's possible features list, and basically, anyone's who's had a hip-hot hit in the last year is in the running to be on the highly-anticipated album. "P R E S E A S O N C U T S (Not Final Cut) Q U A V O H U N C H O," Quavo captioned a photo of a crinkled paper that had 21 Savage, Drake, Cardi B, Lil Baby, Travis Scott, Kid Cudi, Saweetie, Offset, Take Off, and Davido listed on it.
Quavo's list of possible features was met with both excitement and confusion as the list came nearly a month after the "Lamb Talk" rapper announced that he was releasing his solo album in September. "T H I S M O N T H Q U A V O H U N C H O T H A A L B U M," he captioned a photo that showed his hands with Quavo Huncho spelled out in diamond rings a few weeks ago. The "Ice Tray" rapper also wrote in his Instagram story, "This month is mine." However, the month of September came and went without a Quavo album or an explanation for its delay. Many have questioned if he pushed back his debut solo project because Kanye West and Lil Wayne announced that their albums would drop last month. Wayne ultimately was the only one of the three rapers to actually drop an album in the month of September, Kanye backed out after not being able to meet his September 29 release date.
Last month, the Migos member teased his upcoming solo project on the Angie Martinez Show. While promoting his three latest singles — "Workin Me," "Lamb Talk," and "Bubble Gum" — the "No Brainer" rapper told Angie that his fans should prepare for even more music from him in the near future. "It's an alley-oop for the biggest slam dunk in the game," he said, referencing his next project. "It's gonna be crazy... It's on the way."
"Is it a full album? A full EP? What?" the radio host asked. "It's not you leaving [Migos]?"
"No. It's going places and coming back with the trophy so we can celebrate. That's it," he explained, before saying that something "crazy was on the way." "Something real special on the way from your boy Honcho," he added. "It's for the culture. Always for the culture."
Photo: Getty Images
Chat About Quavo's Solo Album Will Feature Some Of The Biggest Names In Hip-Hop