Surviving Members of Soundgarden to Consider "Natural Next Step"
By Andrew Magnotta
October 9, 2018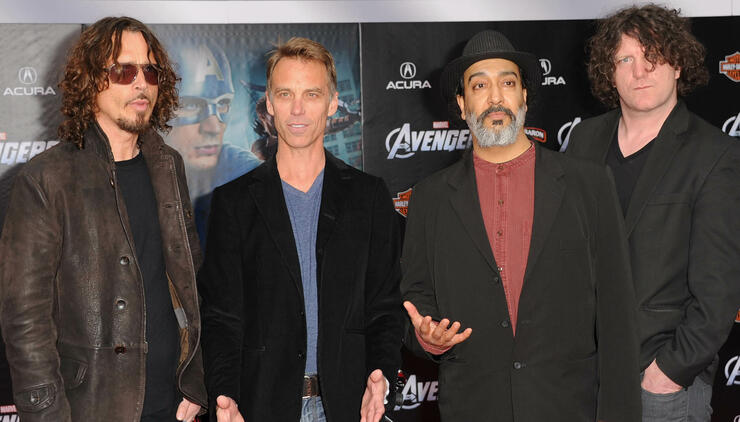 Matt Cameron, Kim Thayil and Ben Shepherd say they haven't spent time alone together since right after their bandmate Chris Cornell's death.
When the three do get together, it's likely they will talk about what Soundgarden is today, what it could be in the future and whether or not it is truly finished.
"We would certainly love to try to continue to do something, figure out something to do together," Shepherd told Rolling Stone in a recent interview surround the unveiling of the Seattle Museum of Pop's Chris Cornell statue.
"On a personal level, we haven't even gotten a chance to hang out, just us three, yet," continued the bassist. "...We're going through natural healing, then thinking about the natural next step."
Cameron said the three are still "taking our time and giving ourselves space to process everything."
The drummer and guitarist Thayil have spent plenty of time together this summer, performing alongside rock revolutionary Wayne Kramer for Kramer's MC50th celebration of the MC5.
It's certainly understandable that it could take a lot more time before Soundgarden is ready to officially call it a career, or move forward in Cornell's shadow.
Cornell died in the middle of a Soundgarden tour, just six months or so after he and Cameron toured with Temple of the Dog for the first time in that band's two-and-a-half-decade history.
Soundgarden had begun working on material of a new album, as well. So in addition to shock and grief, Cornell's death also hit his bandmates with whiplash due to the sudden stop of everything else they were doing together.
Guitarist Thayil recalled being "in the fetal position" for almost a year after his Soundgarden co-founder's suicide.
"Everything has improved day by day," he told Billboard this summer. "Obviously there's still emotional shadows and ghosts. Like anything else, it's something that improves with time."
Photo: Getty Images
Chat About Surviving Members of Soundgarden to Consider "Natural Next Step"