Quavo Strongly Hints At Migos & Drake Joint Mixtape
By Lauren Crawford
October 10, 2018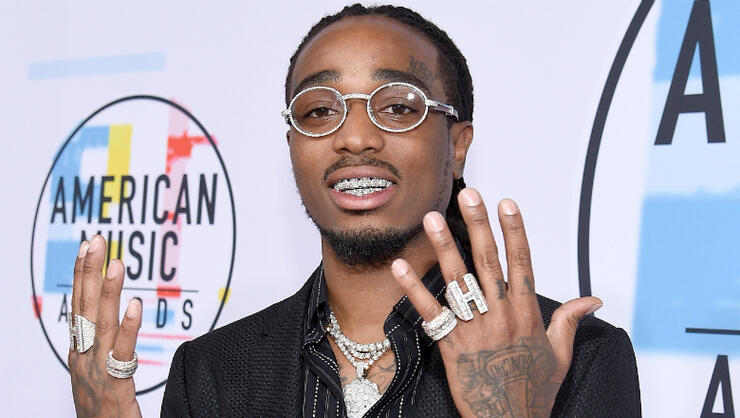 Hip-hop fans, prepare yourselves because a Drake and Migos joint mixtape might be on the way.
While appearing in GQ's "Actually Me" series, posted on Youtube on Tuesday (October 9), Quavo strongly hinted that Migos and Drake would drop a mixtape after their ongoing tour, "Aubrey and the Three Migos."
"Quick thought but what if Migos and Drake dropped a collab mixtape after the tour?" a fan asked on Twitter, to which Quavo replied, "You must be a psychic. If that don't tell you something, I don't know what to tell you." The "Lamb Talk" rapper later elaborated on his comment in a separate GQ interview, describing what the joint project would sound like if the collab were to happen. "That will be a whole lotta bangers," he admitted. "I don't even think we would play around and do regular music. We wouldn't play. We will be just like a whole smash...because that's how our tour is. It's a club, from start to finish. It's crazy."
If that wasn't enough to get fans excited, Migos' label's COO Coach K previously hinted that a Migos and Drake EP was on the way, telling Billboard, "I mean, you know, you gotta wait on that. We're gonna let the creators create and if that happens, that happens, you know what I'm saying?"
To note, the "Aubrey and Three Migos Tour" wraps on November 18. #PerfectTimeForSomeNewMusic
Quavo is currently gearing up for the release of his debut solo album, Quavo Huncho, on Friday (October 12). While he's kept most details about the project under wraps, last week, he teased a possible Quavo Huncho features list; and let's just say, basically anyone's who's had a hip-hop hit in the last year seemed to be in the running to be on Quavo Huncho. "P R E S E A S O N C U T S (Not Final Cut) Q U A V O H U N C H O," Quavo captioned a photo of a crinkled paper that had 21 Savage, Drake, Cardi B, Lil Baby, Travis Scott, Kid Cudi, Saweetie, Offset, Take Off, and Davido's names listed on it.
Photo: Getty Images
Chat About Quavo Strongly Hints At Migos & Drake Joint Mixtape