Quavo Reveals When Migos' 'Culture III' Will Drop
By Peyton Blakemore
October 18, 2018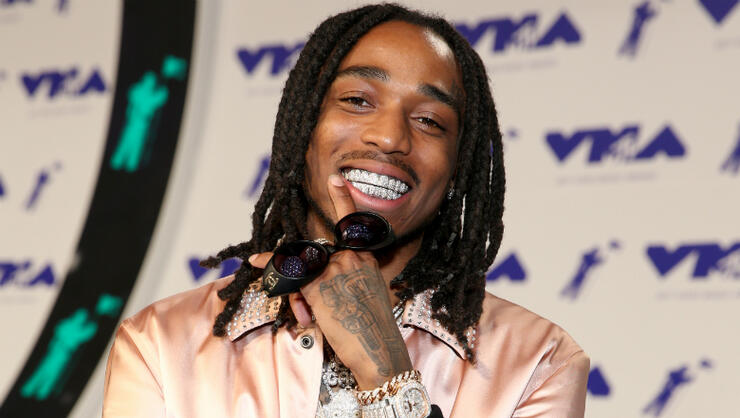 Each member of the Migos has to be a machine! (Seriously, the amount of music they release is out of this world!)
Just days after the release of his debut album, Quavo Huncho, Quavo told the Associated Press that he and the rest of the group are already planning their next album. "We'll be at the top of 2019," he revealed. "We're going to hit them with Culture III."
Speaking of new music, the "Big Bro" rapper also discussed when his group members, Takeoff and Offset plan to drop their solo projects. "I don't know the exact dates," he admitted, "But Takeoff will be next and [then] Offset will come." Quavo's comment confirmed what Offset's mom, Latabia Woodward, announced last week. "It's still 3 of them," she wrote in an Instagram comment to a fan questioning Takeoff's absence from the 2018 American Music Awards."Take is working on his solo album which releases soon after Quavo's. Each of them are releasing solo projects."
In addition to releasing their solo albums, and working on Culture III, earlier this month, Quavo strongly hinted that Migos and Drake would drop a mixtape after their ongoing tour, "Aubrey and the Three Migos." When a fan tweeted at Quavo, "Quick thought but what if Migos and Drake dropped a collab mixtape after the tour?" during his appearance in GQ's "Actually Me" series, the "Huncho Dreams" rapper replied: "You must be a psychic. If that don't tell you something, I don't know what to tell you." The "Lamb Talk" rapper later elaborated on his comment in a separate GQ interview, describing what the joint project would sound like if the collab were to happen. "That will be a whole lotta bangers," he admitted. "I don't even think we would play around and do regular music. We wouldn't play. We will be just like a whole smash...because that's how our tour is. It's a club, from start to finish. It's crazy."
To note, the "Aubrey and Three Migos Tour" wraps on November 18. Sounds like 2019 is going to be the year of Migos!
Photo: Getty Images
Chat About Quavo Reveals When Migos' 'Culture III' Will Drop