Nicki Minaj Offers $100K For Cardi B Fight Footage, Says Cardi Got Beat Bad
By Peyton Blakemore
October 29, 2018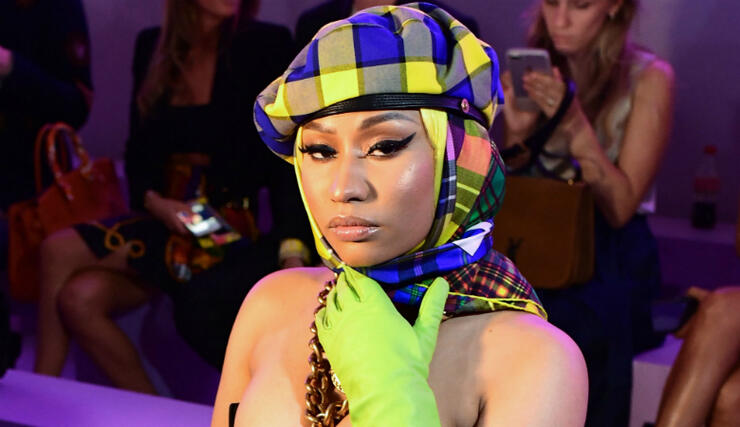 Nicki Minaj may call herself the Queen of rap, but she's more like the Queen of tea!
The "Barbie Dreams" rapper did not hold back while revealing new details about her now-infamous New York Fashion Week fight with Cardi B last month, detailing exactly what went down (as she remembers it), and offering STACKS to back up her story.
"Rah [Ali, Nicki's friend] beat Cardi's a** really bad," Nicki said of the shoe-throwing incident, claiming security footage captured the whole thing. "Rah beat [Cardi] so bad that I was mad at Rah... Rah didn't like her attitude the way she came at me," she added. "Rah, punched her like 8, 9, 10 times — I'm talking about the hardest punches you ever heard in your life."
Nicki then addressed Cardi's post-fight claims about getting a knot on her head during the fight from security. "And you know da*n well, if a ni**a hit you, you would of got ni**as involved," she said. "So you know da*n well a ni**a didn't put that knot on your head."
Nicki didn't end there (oh, no), there was still much more tea to spill and details to reveal. To make it clear just how serious she was about her recollection of events, Nick put this request out to her fans: "Anybody that wanna pull up the surveillance footage, I will give you $100,000." She continued, "Anybody that says that didn't happen. I would never come up here and lie... I don't wanna put the footage out but..." she said while trailing off.
The New York rapper's sights then moved from Cardi to her sister Hennessy Carolina, who as fans know, accused Nicki of leaking Cardi's number to her fans so they could threaten her. "Leaking numbers? What type of bird sh*t you talking about b*tch?" Nick said, before addressing Hennessy's previous comments about her looking like "a crackhead." "The fact that you would even discuss my looks is insane," Nicki said. "Either of you. I'm a bad b*tch." The "Chun Li" rapper continued, "[Cardi], you can't control your sister, but you want me to control millions of fans?"
After spilling all the tea one person is capable of holding, Nicki concluded her Cardi bashing saying, "We can make it stop.... Let's make our music and just be happy. I don't ever want to talk about that again. To me, let's just hold hands.. be happy... pretty girls and just chill out and have fun."
Photo: Getty Images
Chat About Nicki Minaj Offers $100K For Cardi B Fight Footage, Says Cardi Got Beat Bad