Why Don't We Brings Fans Closer To '8 Letters' At iHeartRadio Theater Show
By Hayden Brooks
October 29, 2018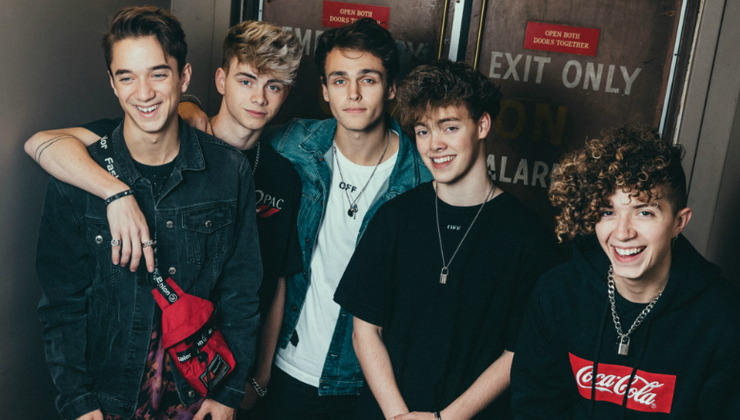 Despite its release in late August, Why Don't We celebrated their debut album, 8 Letters, on Monday night (October 29) at the iHeartRadio Theater in New York City by showing love to the new music, upcoming autobiography, and even a boyband before their time.
During the intimate iHeartRadio LIVE with Why Don't We Powered by M&M'S set, which was hosted by Z100's Maxwell, Daniel Seavey, Jack Avery, Corbyn Besson, Zach Herron, and Jonah Marais took to our space for a special 12 song performance that had their fans cheering all throughout the show. While the first half of the show was only broadcasted for radio listeners, the rest was viewable for streaming as the budding boyband brought something new and old to the acoustic set. Beginning with "Nobody Gotta Know" off their Only The Beginning EP, which was released in 2016, the performance saw the pop quintet chat it up with the host, perform a cover of The Beatles' "Twist and Shout," as well as the Ed Sheeran-penned "Trust Fund Baby" and "8 Letters."
Beyond giving the Limelight live tunes, the band also opened up about their forthcoming photo autobiography called Why Don't We: In the Limelight. "We went into things that we really haven't talked about before like about starting the band [and] about our personal lives. We kind of talked about everything in there, so we're really excited to have that," Jonas told the roaring audience.
Soon afterward, the five-piece traded in the acoustic stylings for something a little more contemporary with the help of Ableton, the hardware and software for music production. Weaving in and out of original cuts, the group raised the harmonizing and delivered mashups of their own tracks with hits from Drake, Ed Sheeran, The Weeknd, and Russ. Scroll on below to see the full setlist from the show!
iHeartRadio recently had the opportunity to take a look at the making of 8 Letters, which had the group work as a strong collective to make sure they created something special. "Honestly, it has been the biggest blessing to have us five doing this together. When you go in the studio or when you go on stage and know you have your four brothers behind you, got your back the whole time, you can't fail," Corbyn said of his bandmates.
1. "Nobody Gotta Know"
2. "Twist and Shout" (Cover)
3. "Trust Fund Baby"
4. "8 Letters"
5. "Hooked"
6. "Something Different" mashup with Russ' "Losing Control"
7. "MIA"
8. "Taking You" mashup with Drake's "Controlla" and Ed Sheeran's "Shape of You"
9. "I Depend On You" mashup with The Weeknd's "Starboy"
10. "Turn It Off" mashup with Drake's "In My Feelings"
11. "These Girls"
12. "Talk"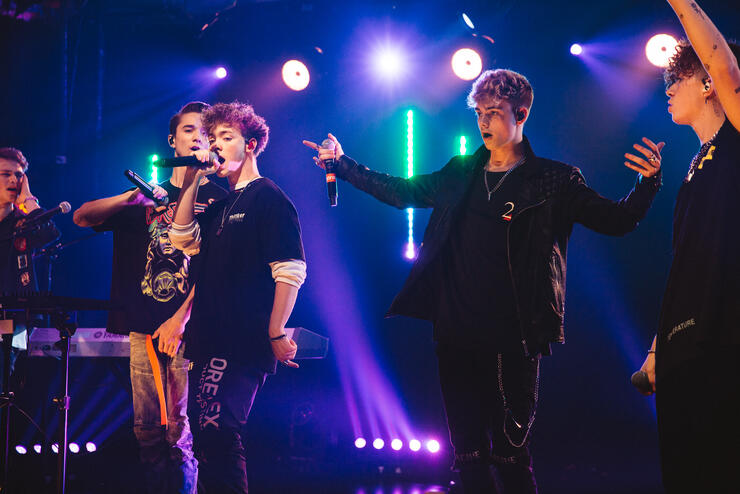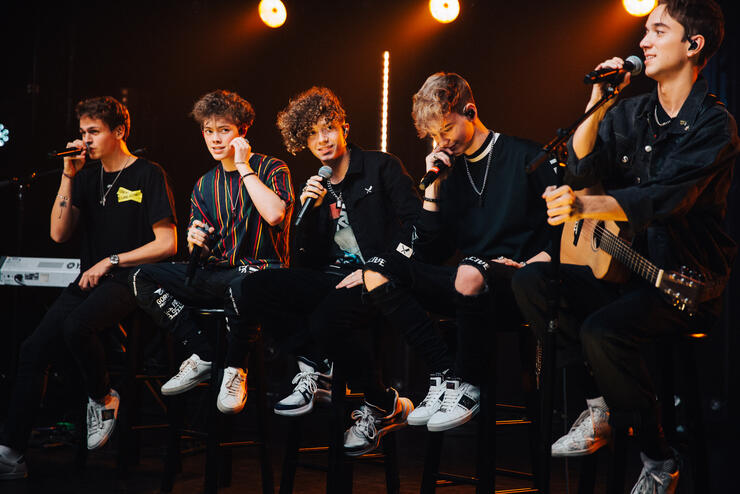 Photo: Katherine Tyler for iHeartRadio
Chat About Why Don't We Brings Fans Closer To '8 Letters' At iHeartRadio Theater Show