Gucci Mane, Bruno Mars, Kodak Black Get Flashy In 'Wake Up In The Sky' Clip
By James Dinh
October 31, 2018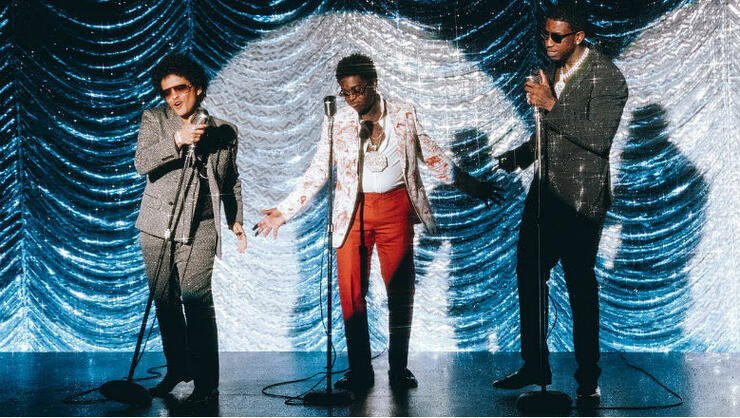 There's no denying just how fly Gucci Mane, Bruno Mars, and Kodak Black are in their sparkling new music video for "Wake Up in The Sky," which dropped on Wednesday (October 31).
In the three-and-a-half minute clip, the trio gets together for a dazzling performance that includes so many diamonds that the footage might just blind you. Much like an all-male supergroup of the past, the trio channel the American Bandstand model while offering simple choreography, lavish ensembles, and even a mini-outfit change. "I drink 'til I'm drunk, smoke 'til I'm high/ Castle on the hill, wake up in the sky You can't tell me I ain't fly/ I know I'm super fly, I know I'm super fly," Mars sings on the melodic hook. Bonus points if you can spot Kodak delivering his signature "Zeze" dance move, which originated from the viral clip of him dancing in the recording studio.
"Wake Up in The Sky" is scheduled to appear on Gucci's forthcoming LP, Evil Genius, and serve as the ATL rapper's first collaboration with Mars since he hopped on the "That's What I Like" remix in 2017.
"I really just been compiling a bunch of songs, listening to beats," Gucci Mane recently admitted of his forthcoming album. "I went in with Metro [Boomin], I did a bunch of songs with Southside, C.N.O.T.E. [I] just really wanted to just have a chance to almost make a mixtape worth of songs with all the producers that I like. I picked maybe, like, 60 or 70 songs. I usually just take 20 songs and put them out, but this time I really recorded a bunch of songs and then picked through them."
Photo: YouTube/OfficialGucciMane
Chat About Gucci Mane, Bruno Mars, Kodak Black Get Flashy In 'Wake Up In The Sky' Clip