Tekashi 6ix9ine Arrested, Busted By Feds On Racketeering Charges
By Peyton Blakemore
November 19, 2018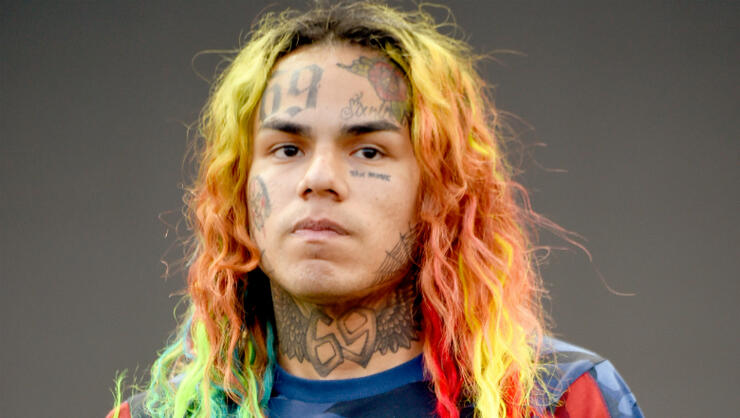 Tekashi 6ix9ine is behind bars.
The "FEFE" rapper, his recently fired manager, and two other former associates are in federal custody after being charged with racketeering, TMZ reports.
Sources told the gossip news site that 6ix9ine, who is currently on probation for his recently closed child sex case, was arrested on Sunday (November 18) night in New York City alongside his ex-manager Shottie. In addition to their racketeering charges, the two were also reportedly hit with a few firearms chargers.
Tekashi's arrest came only days after he canceled his U.S. tour and fired his entire team. "I'm letting everybody know that I canceled my whole tour," he said in an Instagram video on Thursday (November 15). "The American dates is not happening. It's not going down." He added that fans can look forward to rescheduled concert dates in the near future. "I fired everybody on my team. I got no manager, I got no booking agent, no PR, I don't got nobody on my team. It's just me," he further explained. He discussed his decision to fire his team on "The Breakfast Club" Friday, alleging that those closest to him were stealing from him. (Watch the full interview below!)
The "STOOPID" rapper's decision to clean house came one day after news of his former friend and ex-crew member Anthony Jamel Ellison's arrest in connection to his July kidnapping and robbery. Anthony and an additional suspect are being accused of pistol-whipping, kidnapping, and robbing Tekashi. As previously reported, the "STOOPID" rapper was dragged out of an SUV, pistol-whipped, and taken to his home where he was robbed of $750K in jewelry and $15K in cash back in July, TMZ reported at the time.
Tekashi's music video was also shot up earlier this month. While the incident is still being investigated, it was reported that the alleged shooters knew where the rapper would be at the video shoot, which left many believing the incident was an inside job.
Photo: Getty Images
Chat About Tekashi 6ix9ine Arrested, Busted By Feds On Racketeering Charges