Brandon Flowers, Tom Morello & More Sing 'All You Need Is Love': Watch
By Katrina Nattress
November 20, 2018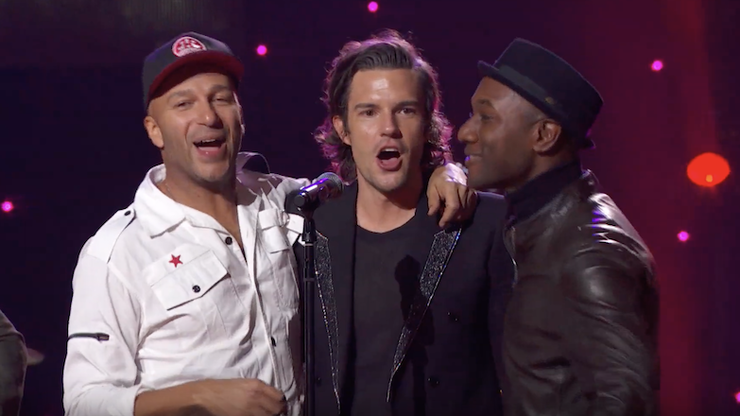 On October 9, 2015 John Lennon would have turned 75 years old. But just because he's not with us anymore, doesn't mean we can't celebrate him. And a star-studded cast did just that at The Theater at Madison Square Garden.
Now, over three years later, that tribute concert is getting turned into a film/album called Imagine: John Lennon 75th Birthday Concert, and we get a sneak peek in the form of a massive sing along to The Beatles' "All You Need Is Love."
The Killers' Brandon Flowers, Rage Against the Machine's Tom Morello, Aloe Blacc, Eric Church, Sheryl Crow, John Fogerty, Peter Frampton, Juanes, Kris Kristofferson, Train's Pat Monahan, Aerosmith's Steven Tyler, Chris Stapleton, Willie Nelson, and Kevin Bacon all joined forces for the joyous performance. Monahan and Flowers tag teamed the song's first verse, and everyone joined in for an extended chorus. Lennon's widow Yoko Ono can be seen in the crowd, smiling and clapping along.
Watch the video below.
Imagine is slated for a December 14th release on CD and DVD, with the LP edition coming out January 18, 2019.
"It's beautiful to see so many wonderful and talented musicians come together for this special show to celebrate John's birthday," Ono said in a statement about the release. "John's art continues to give hope, light and happiness to generations of people everywhere. His belief that each of us can change the world continues to inspire the human race to believe in themselves, and his influence is everlasting in everyone's hearts as we all share in the possibilities and power of music."
Check out the Imagine track list below.
Imagine: John Lennon 75th Birthday Concert Track List
CD & DVD Track List
1. "Come Together" – Steven Tyler
2. "Instant Karma" – Brandon Flowers
3. "Don't Let Me Down" – Sheryl Crow; Brandon Flowers; Chris Stapleton
4. "Jealous Guy" – Pat Monahan
5. "A Hard Day's Night" – Sheryl Crow
6. "In My Life" – John Fogerty
7. "Watching The Wheels" – Aloe Blacc
8. "Woman" – Juanes
9. "Hey Bulldog" – Spoon
10. "Working Class Hero" – Tom Morello; Kris Kristofferson
11. "Happy Xmas (War Is Over)" – Aloe Blacc; Sheryl Crow; Peter Frampton
12. "Give Peace A Chance" – John Fogerty
13. "Mother" – The Roots
14. "Mind Games" – Eric Church
15. "Steel And Glass" – Aloe Blacc
16. "Norwegian Wood (This Bird Has Flown)" – Peter Frampton
17. "You've Got To Hide Your Love Away" – Kris Kristofferson; Willie Nelson; Chris Stapleton
18. "Revolution" – Eric Church; Steven Tyler (DVD only)
19. "Power To The People" – Tom Morello
20. "A Special Thank You From Yoko Ono" – Yoko Ono (DVD only)
21. "Imagine" – Willie Nelson
22. "All You Need Is Love" – Aloe Blacc; Eric Church; Sheryl Crow; John Fogerty; Peter Frampton; Brandon Flowers; Juanes; Kris Kristofferson; Pat Monahan; Tom Morello; Willie Nelson; The Roots; Spoon; Chris Stapleton; Steven Tyler
Photo: YouTube
Chat About Brandon Flowers, Tom Morello & More Sing 'All You Need Is Love': Watch