Fans Uncover Mac Miller's Secret Instagram Account
By Peyton Blakemore
November 27, 2018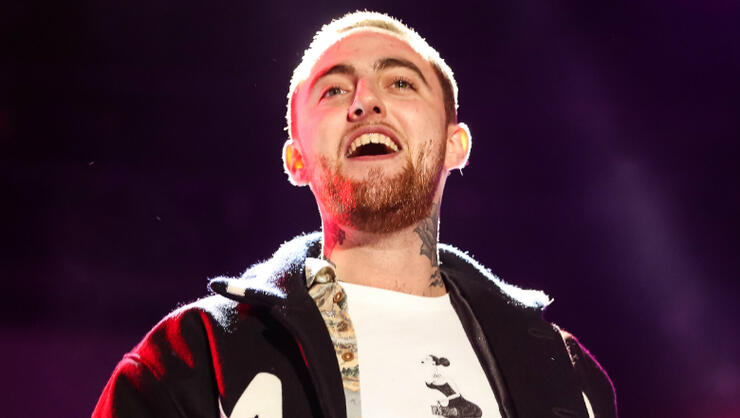 Mac Miller fans' latest discovery proves he was a legend in more ways than one!
The "Self Care" rapper, who died of an accidental overdose in September, was known for taking on different personas, including Larry Fisherman (which was his Instagram handle for years), Easy Mac, and Delusional Thomas. However, his fans recently discovered a new alter-ego —that Mac somehow managed to keep hidden — named Lars.
Now Lars was just a guy just looking to inspire the world one vaping post at a time. Mac brought him to life on a secret Instagram accounted titled @cloudywithachanceofawesome69. The account is dedicated to vaping and vaping only, and it features Mac, sorry, Lars showing off his vaping skills.
"What's up guys, Lars here. My buddy Trevor caught me in mid #pamper this morning. How do you get ready for the day? Comment below! #vapeon," hilariously captioned a video that featured him vaping in a robe while blowing the smoke with a blow dryer last July.
In another post, Lars showed his followers how to start their day with a good ol' cup of Colombian roast coffee and, of course, a big puff of vape. "Good Morning friends, Lars here, celebrating 50 followers with a #dope new way to start your day. This one's called the #Kaluha#CloudyWithAChanceOfAwesome#vapelife #juicyclouds #boobs#goodmorning #itsbetterthanbreakfast#breakfastclub#dothevapesmatchthedrapes," he captioned the IG video that ended with him spitting the coffee out after inhaling a big puff of his vape.
Mac's last and most recent post to Lars' vaping account was a screenshot of a photo of a lawmaker vaping during a committee meeting, shared on July 6, 2017.
The discovery of Mac's secret IG account comes weeks after his death was officially ruled an accidental drug overdose. The Los Angeles County Coroner's Office released the late rapper's toxicology report earlier this month and it confirmed that Mac died from "mixed drug toxicity" — specifically fentanyl and cocaine. The amount of each drug in his system was reportedly not a lethal amount, however, the combination of each drug is what caused his death. The report also showed that there was alcohol in the system.
According to TMZ, Mac's assistant found him unresponsive on his bed in a "praying position" — kneeling forward with his face resting on his knees. He was reportedly already "blue" while the assistant called 911. The report also stated that there was a 1/4 inch "abrasion on the bridge of his nose," and there was blood coming out of one of his nostrils.
As previously reported, the 26-year-old rapper, born Malcolm James McCormick, was found dead in his San Fernando Valley home on Septemeber 7.
Chat About Fans Uncover Mac Miller's Secret Instagram Account