Ariana Grande On Why Mac Miller Wasn't In Her "Thank U, Next" Burn Book
By Allie Gold
December 2, 2018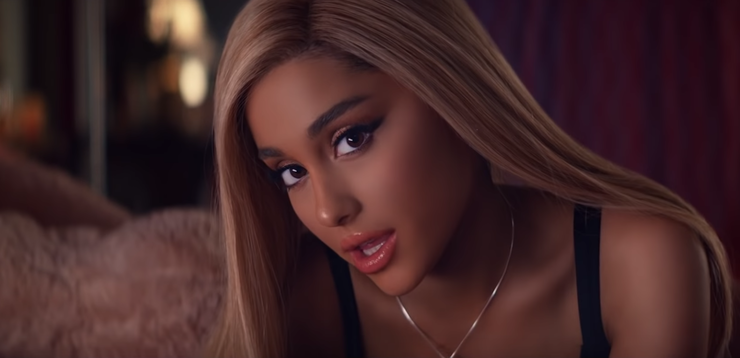 Ariana Grande's "thank u, next" music video has already broken records for being the biggest music video premiere in YouTube history. The video is jam packed with hidden messages to Grande's fans the "Arianators" as well as comments on her past exes. However, everyone noticed the singer changed things up in her "burn book" scene portraying Regina George.
In the first verse of her song, Grande mentions the names of four of her former relationships: Big Sean, Ricky Alvarez, Pete Davidson and Mac Miller. While Sean, Ricky and Pete all received a page in the "burn book" with a message to each, Mac's page seems to be missing.
Well actually Grande told us about this before the video was even released! Noted by Elle, Grande responded to one of her fans on November 23rd revealing that Mac, who passed away in September, had a different place in the video. "M ain't in the book, he's next to my bed," the pop star wrote.
M ain't in the book he next to my bed

— Ariana Grande (@ArianaGrande) November 23, 2018
After re-watching the video, you can see that Grande closes the burn book right before she sings her line for Mac. While singing "Wish I could say thank you to Malcolm, 'cause he was an angel," Grande looks upwards and if you look closely you can see there are picture frames on her nightstand. It's hard to see exactly the photos inside them however from the tweet above we can interpret that she's referring to one of those photos.
This isn't the first time Grande has paid tribute to Mac since his passing, the singer has made several posts on social media. "I adored you from the day I met you when I was nineteen, and I always will," she wrote on Instagram shortly after his passing. "The kindest, sweetest soul with demons he never deserved. I hope you're okay now. Rest."
Photo: Ariana Grande YouTube
Chat About Ariana Grande On Why Mac Miller Wasn't In Her "Thank U, Next" Burn Book