Travis Scott Responds To Cheating Rumors After 'Fake' Photos Of Him Surface
By Peyton Blakemore
December 4, 2018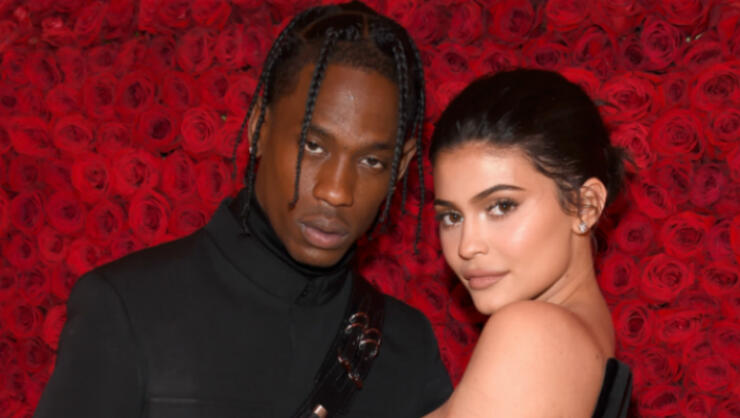 Travis Scott wants trolls to leave him and his relationship alone.
The "SICKO MODE" rapper went into complete damage control mode on Monday (December 3) after an alleged photo of him cheating on Kylie Jenner surfaced. The picture in question, shared by Comments By Celebs, showed what appeared to be Travis (or a man with a similar hairstyle) leaning into to kiss a woman's neck while on an outdoor balcony. The man's head in the photo is down, so the only recognizable feature was Travis' signature plaits.
However, before cheating rumors could get out of hand, the 26-year-old rapper quickly commented on the post to set the record straight. "Sh*t cap a*** f**kkkk," he wrote. "TMZ ain't post this sh*t. Trolls working hard today. I don't be on a balcony with no thots. That sh*t lame. Try again u trollsssss. Me and wifey sturdy. Back to celebrating !!!" He later added: "Only got love for my wife. No time to be wasting. Try again." (Yes, called Kylie his wife. Yes, he has a history of calling Kylie his "wifey" even though they do not appear to be married yet. And yes, every time he does it, it sends us all into a panic)
Travis didn't stop his defense there. He also took to Instagram Stories to further deny that he cheated on his "wifey." "Trolls always wanna create some fake sh*t to destroy real love. GOING OVER BOARD TO MAKE SH*T LOOK LIKE IS NOT IS EVIL. I hate acknowledging sh*t. But quit try to take joy from sh*t that's good," he wrote. "I pray god blocks out all evil BACK TO CELEBRATING !!!!"
The cheating rumors coincidentally fell on the same day Travis' single with Drake, "SICKO MODE," hit the No. 1 spot on the Billboard Hot 100. He was celebrating the accomplishment all day Monday.
Chat About Travis Scott Responds To Cheating Rumors After 'Fake' Photos Of Him Surface