Bridezilla Furious After Her Crazy Weight-Based Wedding Dress Code Leaks
By Dave Basner
December 6, 2018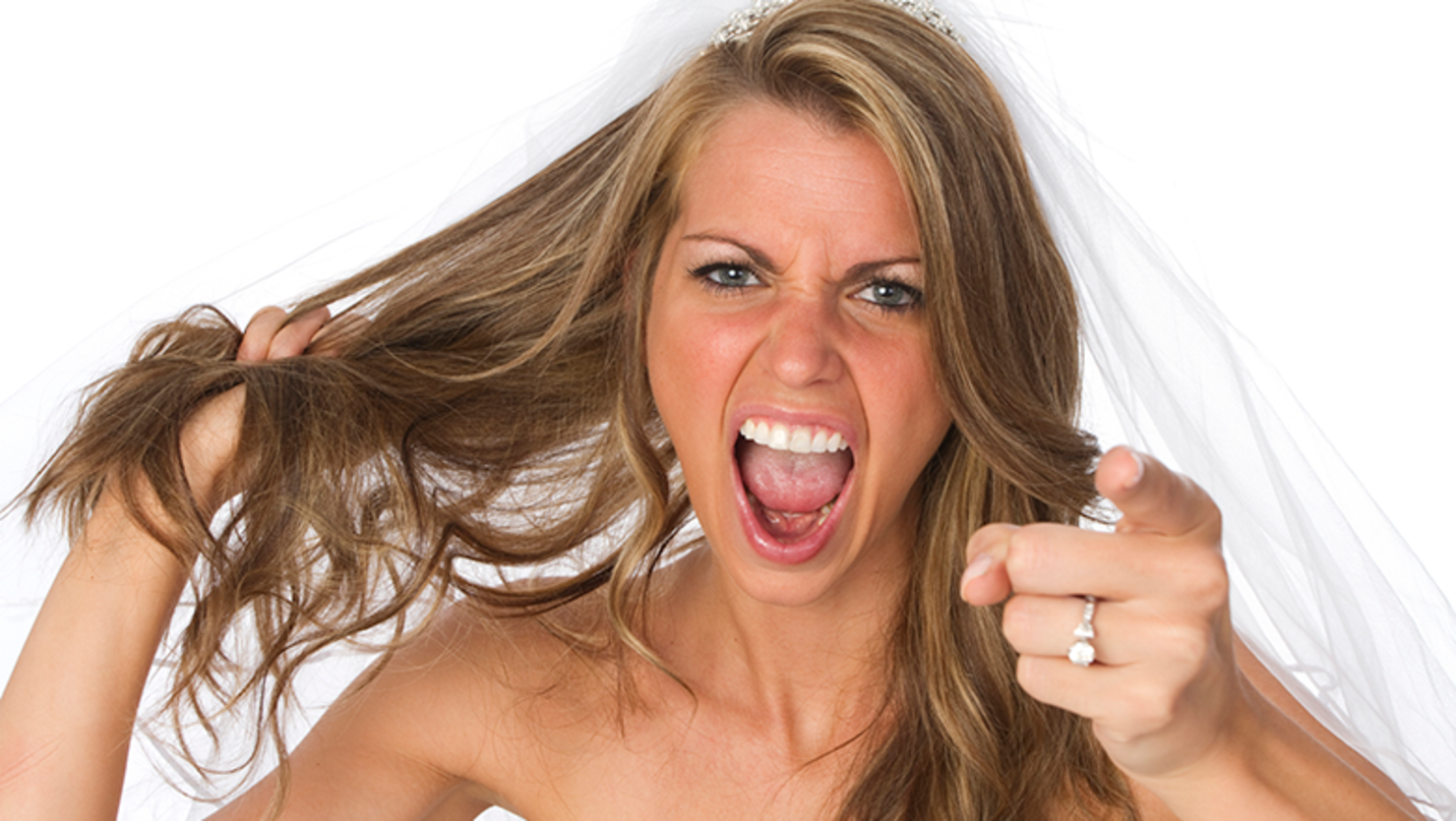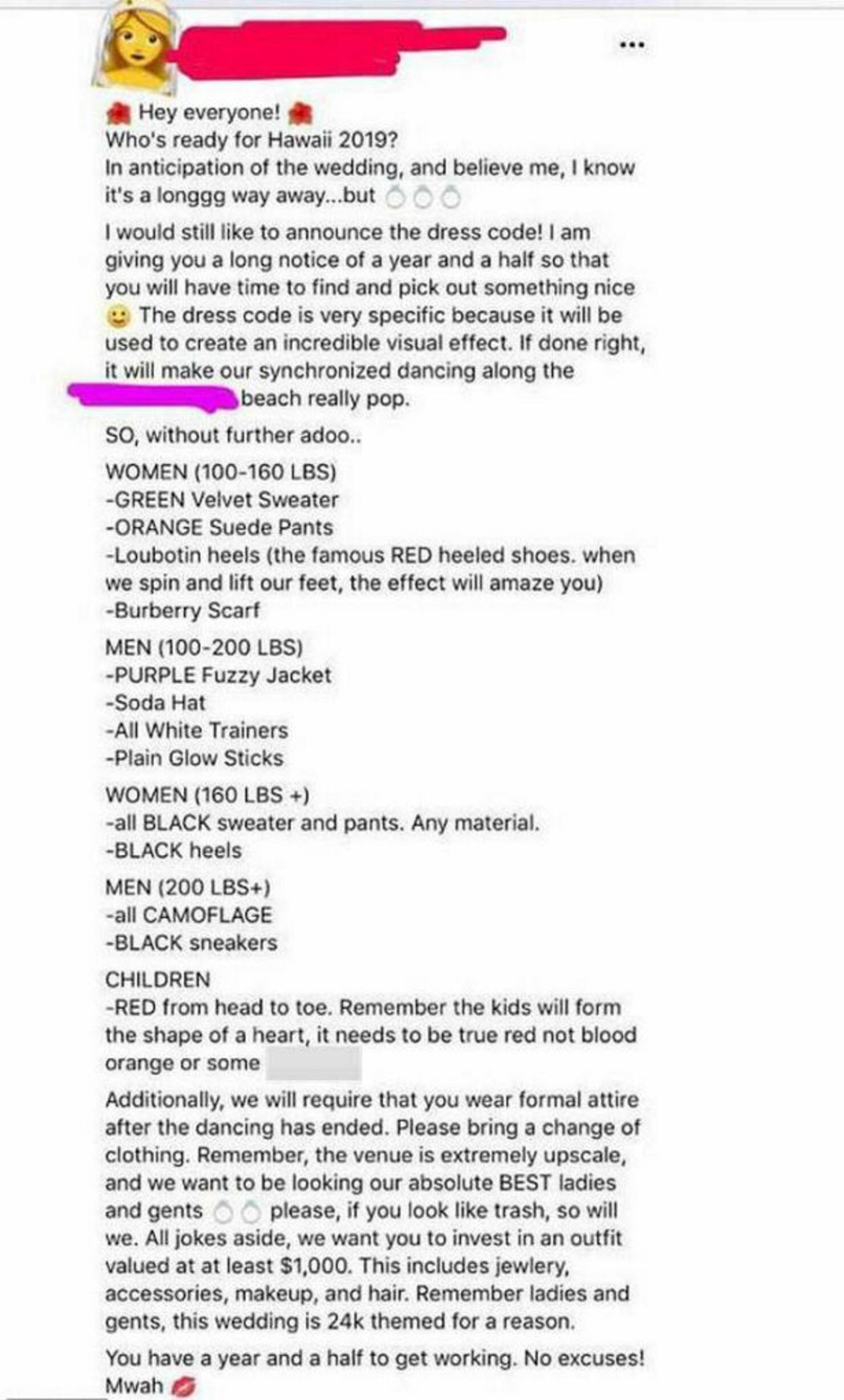 To ensure the dance routine really pops, women between 100-160 pounds are required to wear a green velvet sweater, orange suede pants and a Burberry scarf - not the most comfortable outfit considering the wedding is set to take place in Hawaii. They also must don a pair of red Louboutin heels so "when we spin and lift our feet, the effect will amaze you."
Meanwhile, men under 200 pounds are to show up in a purple fuzzy jacket, a soda hat and white trainers. They should also have glow sticks.
Guests who are female and over 160 pounds have to wear a sweater and pants with heels, all in black, while men over 200 pounds are expected to sport all camouflage along with black sneakers. As for kids, they need to be in all red since they'll be forming the shape of a heart. The bride makes sure to note the color needs to be "true red not blood orange or some bulls**t."
Someone on the internet was kind enough to illustrate what's expected of guests: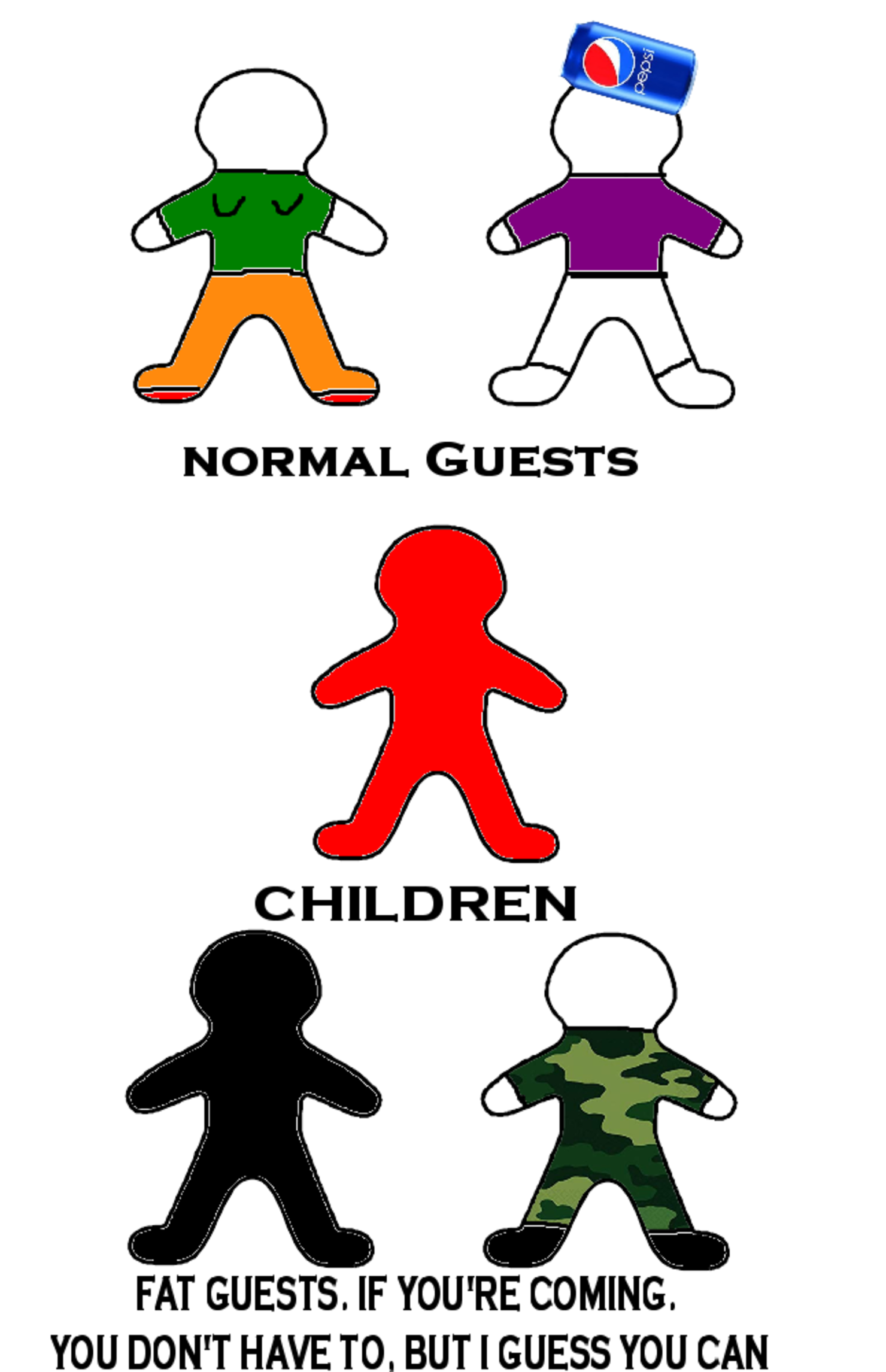 The good news is, once the dance is over, the guests can change out of those clothes, but the bad news is whatever they change into should be worth at least $1000 Australian dollars, or $722 American dollars. The bridezilla explained, "Remember, the venue is extremely upscale and we want to be looking our BEST ladies and gents… If you look like trash, so will we. This wedding is 24K themed for a reason."
Not surprisingly, such a ridiculous post quickly spread, and eventually the bridezilla caught wind of it leaking. She was very unhappy and made her thoughts known in a new, even crazier post that announces a "polygraph party" to find the "rat" who leaked the dress code.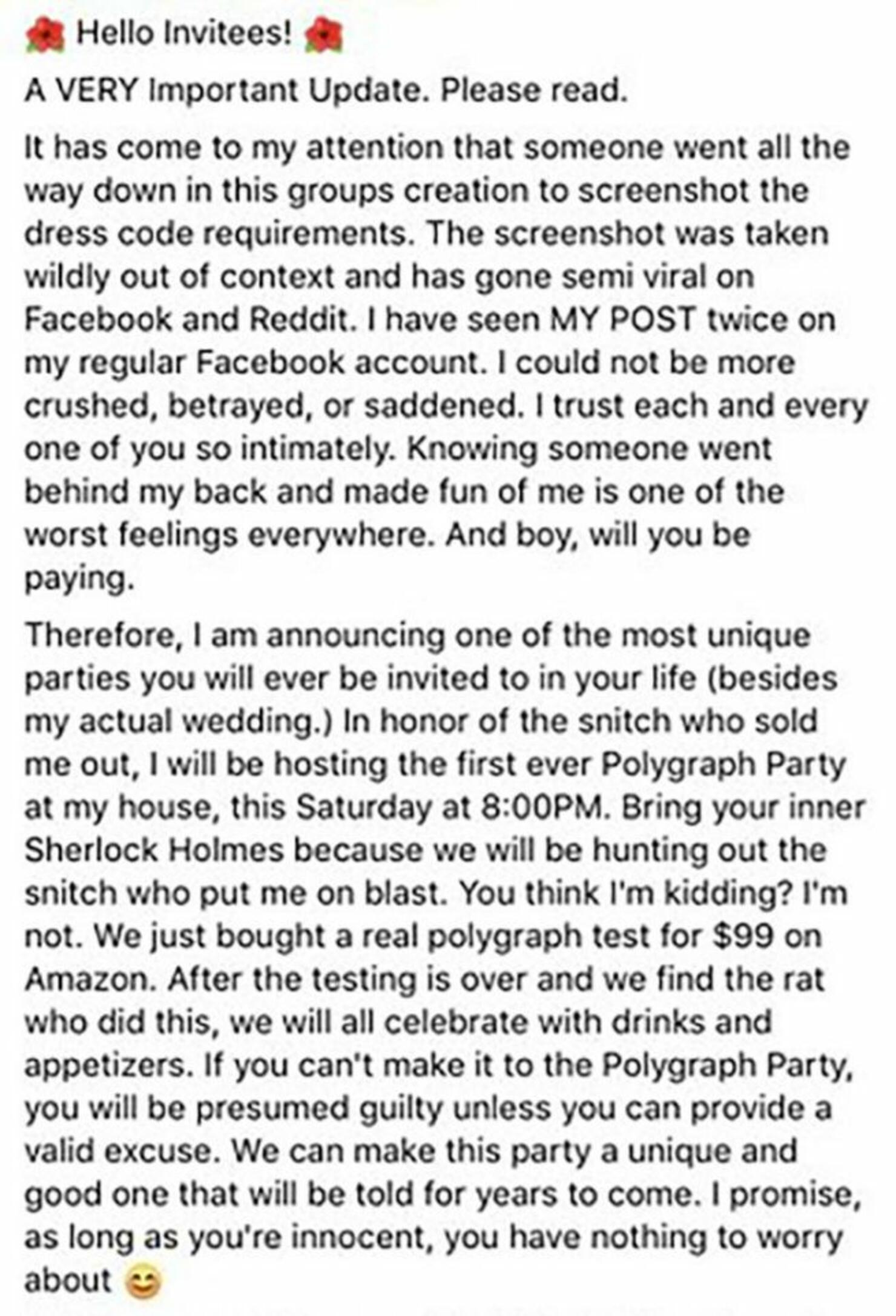 The bridezilla says she "could not be more crushed, betrayed, or saddened," before inviting everyone to the polygraph party where she "will be hunting out the snitch who put me on blast." She reveals she bought a polygraph for $99 on Amazon and unless guests have a valid excuse, they will be "presumed guilty."
She also gives the culprit a chance to just come clean, explaining, "I won't retaliate, I will simply cut all ties and communication with you (and talk s**t about you for a long, long time)." The bride even offers $100 to any information about who the leak is.
The bride then explains the strange history of her relationship and the even more bizarre meaning behind the dress code, comparing it to Indian culture. She goes on to tell guests that they don't need to take part in the dance routine, noting that instead they can "help the crew clean up after dinner."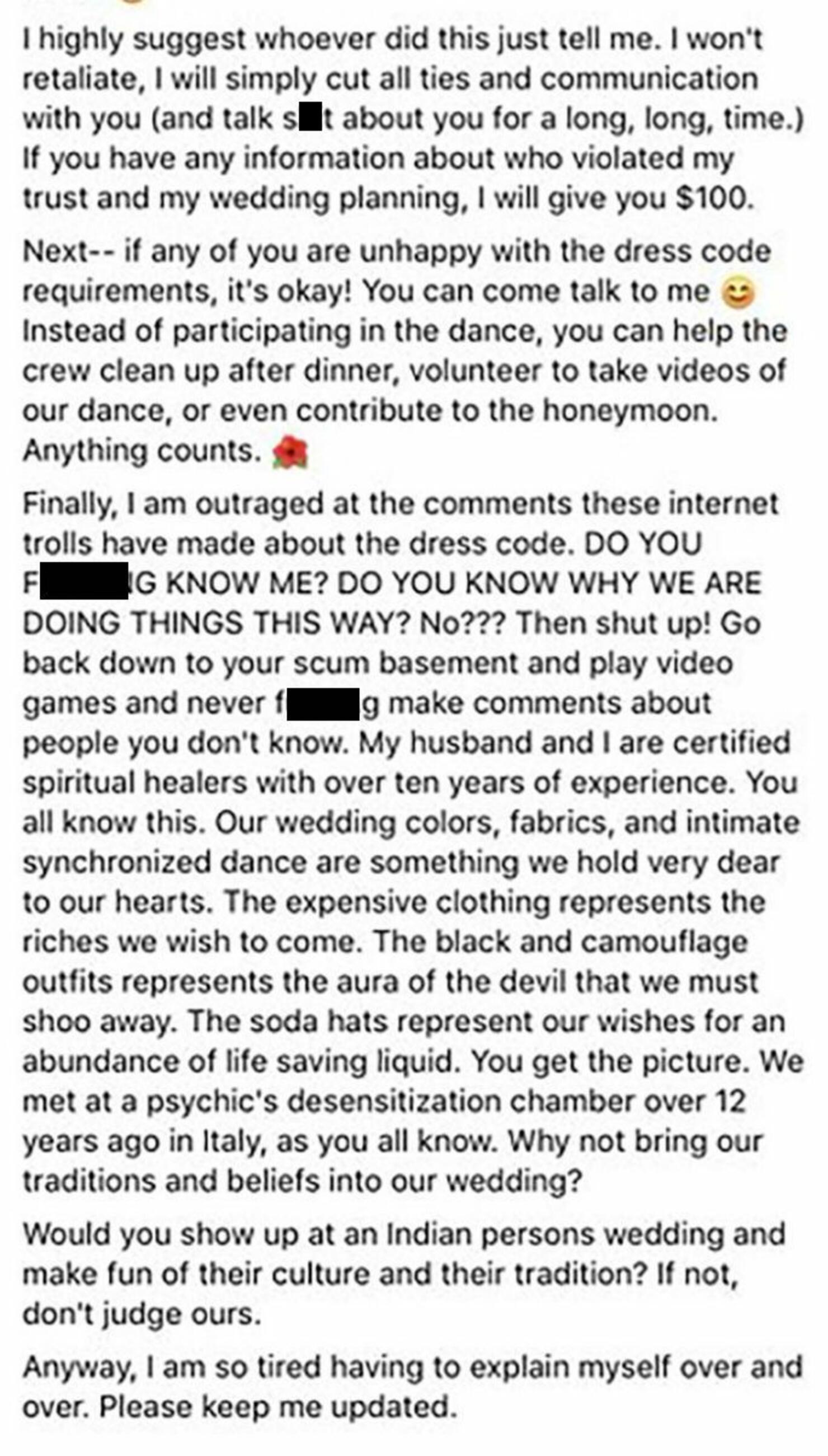 It seems like the wedding is still on, although some people find the whole thing hard to believe, but plenty of others are certain there is truth to the story.
Photo: Getty Images, Imgur