Twenty One Pilots Open Up About Doubt, Trust and 'Trench'
By Katrina Nattress
December 10, 2018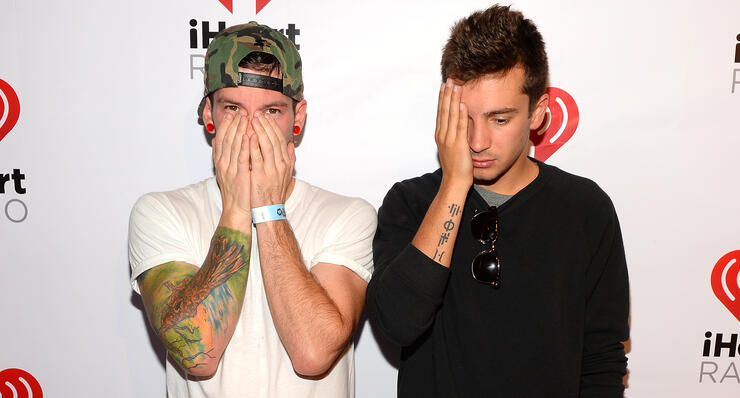 It's been a good year for Twenty One Pilots. They put out their highly anticipated fifth studio album, Trench, in October to much praise and are currently touring the world on their massive Banditø Tøur. But even bands of this caliber have insecurities, and drummer Josh Dun recently opened up about his in an interview with Rock Sound.
"The notion that it could potentially not work definitely crossed my mind at times, but I always have that small seed of doubt — it's the reason why I'm still always so excited when people actually turn up at a show!" he confessed. "Making something new is always scary, and I think if it wasn't then I'd be more unsettled by that than anything else."
Singer/bassist Tyler Joseph has a different perspective. "I don't even know how aware of those risks I was, honestly. Maybe I simply didn't allow myself to be aware of the magnitude of it all, certainly in terms of an external viewpoint," he admitted. "I think that perhaps the relationship that I have with our fans is such that we all kind of agree, whether that be on the type of music that we want to listen to or the way in which that music needs to be created. Just because a song comes from me doesn't mean that it's good, but being by myself and putting myself in an environment where I can be honest about that fact — about whether or not a song has value or is of a certain standard — is something that I think our fans ultimately understand. So when it comes to the idea of taking risks or dodging hazards, I don't know if I even see it that way myself. I think that knowing that trust exists, and knowing that understanding is there from the fans, meant that in my mind there wasn't really much danger to be found."
Joseph and Dun will be sharing their genre-spanning new tunes at The Forum in Los Angeles on January 19 for iHeartRadio's 2019 edition of ALTer Ego, along with Muse, The Killers, Weezer, Rise Against, Bishop Briggs, and The Revivalists.
Photo: Getty Images
Chat About Twenty One Pilots Open Up About Doubt, Trust and 'Trench'