Newlyweds Nick Jonas & Priyanka Chopra's Honeymoon: See The First Pic!
By Paris Close
December 11, 2018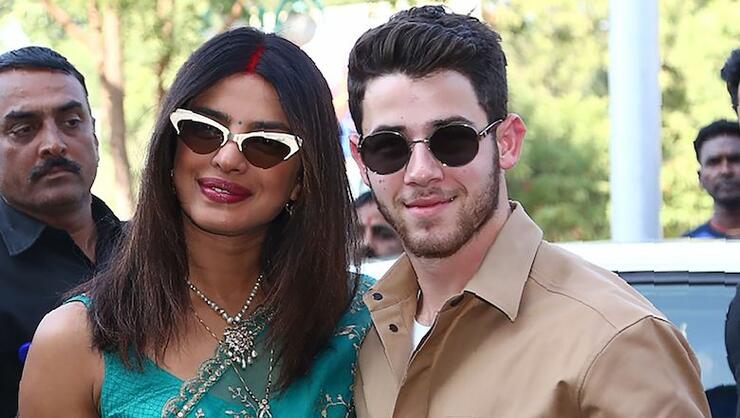 Nick Jonas and Priyanka Chopra are in a state of matrimonial happiness.
After tying the knot more than a week ago in an Indian wedding ceremony, the "Jealous" artist and his actress wife are relishing the beginning stages of their mini honeymoon. "Marital bliss they say," the Quantico alumna captioned an image of her resting her head on Jonas' chest last night (December 10).
A previous snap from the 36-year-old's Instagram Story seems to place the newlyweds at a beach or island resort, possibly overseas in India, where the couple wed December 1. In the photo shows the lovebirds' initials inside a heart the two drew in the sand.
There's no telling where the duo is spending their post-wedding fun, but the destination seems like a nice and sunny getaway from the cool snowy breezes in the most states around this time of year.
In another Instagram post, shared hours prior, the "Chains" musician treated his wife to one of his favorite films — and it's a totally timely holiday classic.
"Her first time watching Elf," Jonas wrote along with a video of Chopra caroling along to "Santa Claus Is Coming to Town" while watching the 2003 film, unaware her hubby is secretly recording her. "Lol!!! Husband taking sly videos when I'm so invested in Santa is so husband like.." she commented underneath the clip.
These honeymoon snippets come just a few days after Chopra formally changed her name to "Priyanka Jonas Chopra" on Instagram in honor of their union, which featured both a Christian and Hindu celebration to recognize the pair's respective cultures.
The twosome first announced their engagement in August. It was previously rumored the pair had been dating as early as May and became engaged in secret over the summer when Jonas popped the question on Chopra's birthday (July 18).
See more photos from Nick and Priyanka's wedding here.
Chat About Newlyweds Nick Jonas & Priyanka Chopra's Honeymoon: See The First Pic!