Maroon 5 Can't Find Music Guests To Join Super Bowl Halftime Show: Report
By Paris Close
December 13, 2018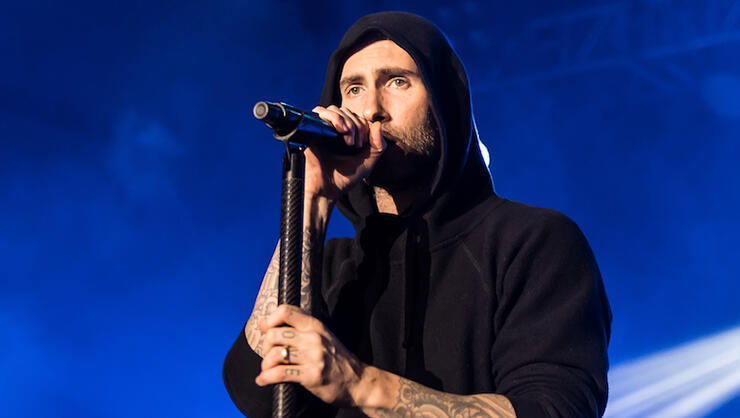 Rumor has it Maroon 5 could be playing the Super Bowl halftime show solo.
The band, anticipated to take the stage at Super Bowl LIII in Atlanta on February 3, "is having a lot of trouble finding guests" to perform alongside them for the annual sports event, a source told Us Weekly on Wednesday (December 12).
Apparently, "No one wants to associate themselves with the NFL," and it supposedly has a lot to do with the NFL's ostracization of Colin Kaepernick, who was infamously exiled from the league in 2016 for kneeling during the National Anthem to protest racial injustice and police brutality.
These sentiments aren't surprising, as it was only a month ago that a Change.org petition circulated with more than 39,000 signatures requested the pop stars show their support for the athlete by dropping the opportunity altogether. In their appeal, the user notes how artists like Rihanna and Jay-Z have openly rejected invitations to perform the halftime show and insists the group follow in their footsteps.
As previously reported in September, rapper Cardi B was in talks to take on the musical guest slot but even that is still up in the air. "She's been going back and forth," the source told the outlet, "but it's a no right now."
Let's not forget, the "I Like It" rapper has stood in solidarity with Kaepernick since the beginning. She made her stance clear in a shout-out at the 2017 MTV Video Music Awards, saying, "Colin Kaepernick, as long as you kneel with us, we're gonna be standing for you, baby. That's right, I said it."
Photo: Getty Images
Chat About Maroon 5 Can't Find Music Guests To Join Super Bowl Halftime Show: Report