Offset Begs For Cardi B's Forgiveness In Emotional Apology Video
By Peyton Blakemore
December 15, 2018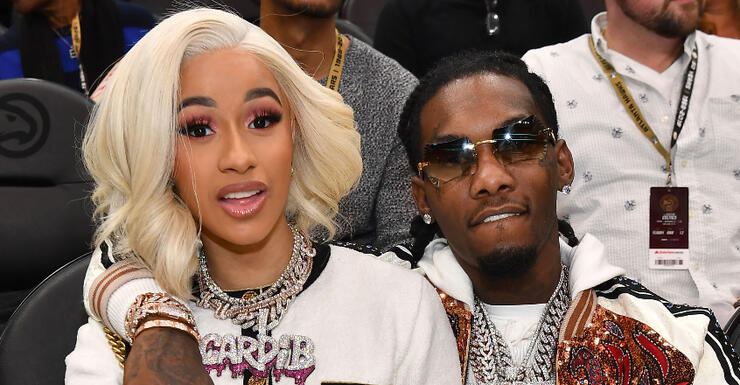 Offset wants one thing for his birthday — his wife Cardi B.
The "MotorSport" made a public plea on Instagram Friday (December 15), asking that Cardi give him and their marriage another chance, just one week after the "Money" rapper announced she and her husband are calling it quits after 14-months of marriage. "I only got one birthday wish and that's to get my wife back Cardi," Offset began the video. "We're going through a lot of things right now, a lot of things in the media. I want to apologize to you Cardi. I embarrassed you. I made you look crazy." While attempting to hold back tears, the rapper then confessed to his infidelity. "I was doing things I didn't have no business [doing]. I was partaking in activity that I shouldn't have been partaking in, and I apologize," he admitted. "You know what I'm saying? For breaking your heart, for breaking our promise, for breaking God's promise and being a selfish, messed up husband."
"I'm trying to be a better person. I want to get this off my shoulders. I want to get this off my back. I apologize to you Cardi. I love you," he continued before mentioning the couple's five-month-old daughter. "Kulture, I want to spend Christmas with you."
"I want to be able to spend the rest of my life with you," he then said. "I apologize. I am sorry for what I have done to you. I didn't f**k that girl, but I was entertaining her, you know what I'm saying? I apologize, and I love you, and I hope you forgive me. My birthday wish is just to have you back."
Cardi has yet to respond.
As fans know, after Cardi announced her and Offset's split, he was accused of cheating on her with multiple women during their marriage. One alleged side-chick, Summer Bunni, even issued a public apology for having an affair with him. However, the alleged exposure of Offset's cheating ways didn't stop him from taking to Twitter to publicly express how much he misses his wife. "F**k y'all," Offset wrote on Twitter Sunday (December 9). "I Miss Cardi."
Most recently, a source told E! News Cardi is "very torn" over what their future holds. The insider added things have "been really hard" for the both of them since their split, saying Offset is "trying to win Cardi back" but she's "not on board yet."
"They haven't been spending time together and Cardi expressed she still wants her space. She is very busy right now with her work and is focused solely on Kulture," said the source. However, she "still loves [Offset] and wants her family to be whole again." As it stands, the insider said Cardi has not begun divorce proceedings because "there is still a chance of reconciliation."
Photo: Getty Images
Chat About Offset Begs For Cardi B's Forgiveness In Emotional Apology Video