Cardi B Stops Concert To Pull Out Her Wedgie After Intense Twerking
By Peyton Blakemore
January 3, 2019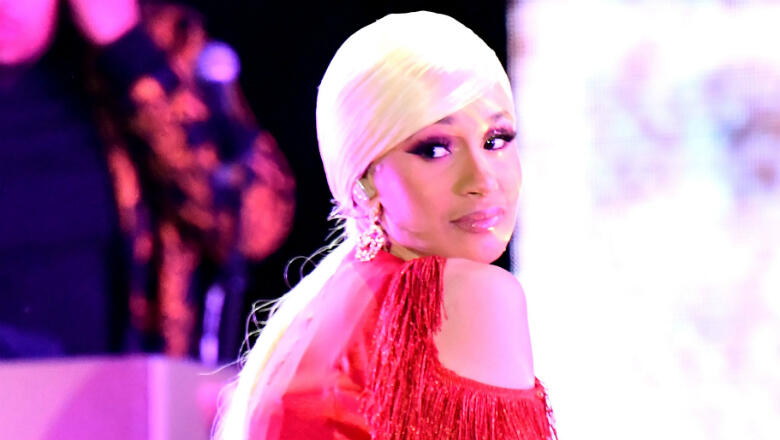 Even an expert twerker like Cardi B sometimes has a little twerk-induced wardrobe malfunction.
While the "Money" rapper was performing at the Bay Dreams concert in Mount Maunganui, New Zealand on Wednesday (January 2), she was forced to stop her show due to a little twerk-induced wardrobe malfunction. "Anyways y'all, I need a little break," she told the crowd, per a fan captured video. "I'ma be right back, I gotta take this wedgie out my a**." Cardi than ran backstage to handle her business and when she returned the show went on without a hitch.
Before the wedgie situation, Cardi was twerking her little heart out in an emerald green body suit, which seemed to be no match for her intense booty-shaking. As fans know, Cardi's twerking skills are next level. Earlier this week, while performing in Sydney, Australia, she shared a video of her getting down on all fours as she shook what her mama gave her to her hit "She Bad," which features YG. "SHE BAD SHE BAD SHE BAD SHE BAD ! I wish I coulda made the video to this song but I was 6 months pregnant 😩😩😩😩 @yg," the "Bodak Yellow" rapper captioned the booty-shaking clip.
Cardi's wedgie-induced twerk session came days after she opened up about dropping new music in 2019. While on Instagram Live earlier this week, the "Money" rapper revealed she hopes to release her sophomore album in the first half of the new year. "Of course, it's going to be an album in 2019. Hopefully, I can get my album done around the same time that Invasion of Privacy (which dropped April 5) came out," she told her fans. "I don't know how possible that's going to be because I feel like I'm going to be extremely, extremely busy."
Photo: Getty Images
Chat About Cardi B Stops Concert To Pull Out Her Wedgie After Intense Twerking