Colin Kaepernick Denies Consulting With Travis Scott On Super Bowl
By Peyton Blakemore
January 16, 2019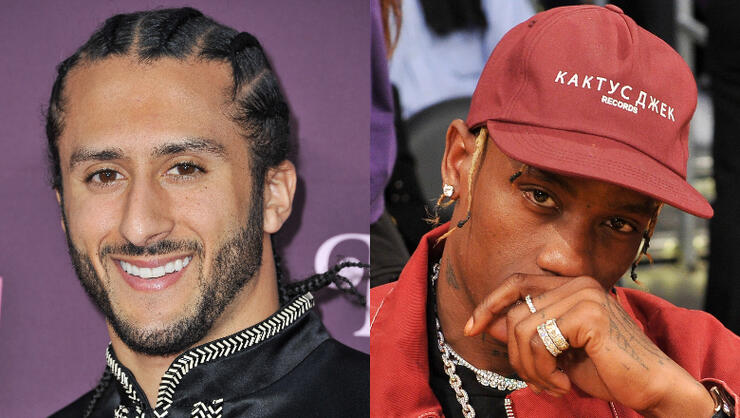 UPDATE (1/16/18): Sources connected with both Travis and Colin agree the two men spoke on the phone, however, Colin did not approve of Travis' ultimate decision to perform. According to TMZ, Before Trav signed the contract, he reached out to Colin, presumably to get him on board with his decision, but not to ask his permission. Colin was reportedly not supportive of Travis' decision to perform at the Super Bowl and the two disagreed. Despite their disagreement, multiple sources called the conversation "cordial and not hostile." Travis sources also told TMZ that while the 26-year-old rapper respects Colin, "Colin doesn't tell Travis what he can and can't do. That's Travis' decision."
Don't believe the gossip!
Contrary to reports, Travis Scott and Colin Kaepernick did not approve the rapper's Super Bowl appearance, TMZ reports.
On Tuesday (January 16), Variety released a report claiming sources close to Travis said the two had "at least one phone conversation" ahead of the 26-year-old rapper's Super Bowl LIII halftime show performance announcement. The alleged insider additionally claimed "that while the two did not necessarily agree, they emerged from the conversation with mutual respect and understanding, with the rapper taking the stance that everyone makes a statement in their own way and he felt that the money going toward Dream Corps, combined with the platform provided by the Super Bowl, will do some good." Adding, Travis "would not confirm his performance until the donation was locked in."
However, those closest to the former NFL player, and Colin himself, are calling BS on the report. Colin's close friend Ebro Darden, even addressed the situation on Twitter, writing, "Kap did not approve this bullsh*t! Get the f**k outta here." Colin retweeted Ebro's statement, and so did his girlfriend Nessa, who also weighed in tweeting: "FACTS @EBRO!!! THEY NEED TO STOP LYING."
As previously reported,Travis announced that he agreed to take the SB stage with Maroon 5, who is headlining the show, under one condition: The NFL make a $500,000 donation to the charity of his choice. "I back anyone who takes a stand for what they believe in. I know being an artist that it's in my power to inspire. So before confirming the Super Bowl Halftime performance, I made sure to partner with the NFL on this important donation," he explained in a statement. "I am proud to support Dream Corps. (an organization "founded by Van Jones in 2014 to help cutting-edge initiatives grow big enough to impact millions of lives") and the work they do that will hopefully inspire and promote change."
Last month, when rumors began to circulate about Travis' involvement in Super Bowl LIII, the rapper faced major backlash for his decision to perform, given the on-going NFL boycott sparked by Colin's kneeling protests. Many people felt that by Travis agreeing to perform, he was overlooking the NFL's alleged blackballing of the former San Francisco 49er quarterback, who spearheaded the kneeling movement in protest of police brutality and racial injustice. There were even reports that Jay-Z attempted to talk Travis out of performing the show because of that very reason.
Photo: Getty Images
Chat About Colin Kaepernick Denies Consulting With Travis Scott On Super Bowl