Barack Obama & Beyoncé Share Unseen Photos Of Michelle Obama On Her B-Day
By Lauren Crawford
January 17, 2019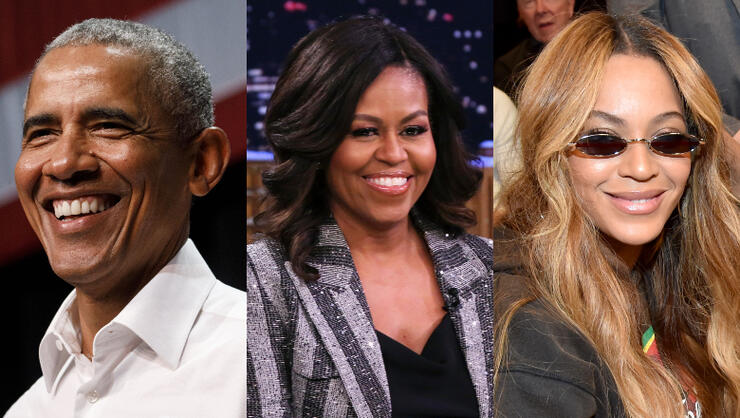 Talk about feeling the love!
For Michelle Obama's 55th birthday not only did she get the sweetest, most beautiful, most amazing most... I'm out of adjectives, birthday message from her husband, Barack Obama, she got the Queen herself (and I'm not talking about Elizabeth), to wish her a happy birthday.
On Thursday (January 17), the former President posted a beautiful love note to his wife of 26 years alongside a never-before-seen throwback photo of the couple. "I knew it way back then and I'm absolutely convinced of it today — you're one of a kind, @MichelleObama. Happy Birthday!" he wrote. #HusbandGoals
For Beyoncé's post to the former FLOTUS she simply shared a black-and-white photo of a young Michelle with the words "Bow Down" written over it.
Bey's relationship with the Obamas goes back nearly ten years. She memorably sang Etta James' "At Last" for the Obamas' first dance at Barack's 2009 inauguration ball, and well, they've been friends ever since. Not only are the Obama girls Beyoncé stans, who attend all of her concerts — Michelle and her two daughters, Malia and Sasha, attended both "On The Run" and "On The Run II" tours — they always seem to support each other publically.
Back in 2012, Beyoncé even wrote an open letter to Michelle, praising her for being a role model to women all over the world. "Michelle is the ULTIMATE example of a truly strong African American woman," read the handwritten note. "No matter the pressure, and the stress of being under the microscope -- she's humble, loving, and sincere [...] Michelle, thank you so much for every single thing that that u do for us — I am proud to have my daughter grow up in a world where she has people like you to look up to."
Clearly, the feeling is mutual because less than a month later Michelle was singing Bey's praises during a sit-down interview with Wale. "If I had some gift, I'd be Beyonce," she admitted. "I'd be some great singer. The power of music, being able to play an instrument… It looks like musicians just have the most fun."
Chat About Barack Obama & Beyoncé Share Unseen Photos Of Michelle Obama On Her B-Day