Vinnie Vincent's New Singer Hints at Tour Dates Beyond Comeback Shows
By Andrew Magnotta @andrewmagnotta
January 18, 2019
In a statement confirming his part in Vinnie Vincent's comeback concerts next month, singer Jim Crean appears to have let slip that Vincent is working on booking a tour.
"The first tour dates are February 8th & 9th at Rocketown Concert Theatre & Entertainment Complex ... South Nashville, TN..." Crean wrote in an all-capital letters Facebook post Thursday.
The former Kiss collaborator Vincent previously confirmed bassist Tony Franklin and legendary drummer Carmine Appice as filling out the instrumental side of his new solo band.
"We're gonna kick ass. We've got a great band. We're gonna cover Vinnie Vincent Invasion classics, Kiss classics and jamming and shredding," Vincent said in a newly released promotional video. "It's going to be a lot of fun. I want to thank everybody for keeping the faith and I want to ask you all to be there!"
Crean, who has worked with both Appice brothers in the past, was added to Vincent's band after original Vinnie Vincent Invasion singer Robert Fleischman backed out, citing "poor organization" on the part of Vincent's team and general misgivings about the whole affair.
This time last year Vincent returned from his 30-year hiatus and began doing signings and appearances. Over the summer, the guitarist announced plans to return to performing, though he cautioned that he would probably not be ready to tour again until this year.
But the comeback proved more difficult to pull off after Vincent added a second show and then teased a "full shred" set in addition to the solo acoustic storyteller format described in the initial show announcement.
Though initially scheduled for December, the comeback shows were postponed for reasons that are still unclear. Vincent blamed "scheduling," "logistical requirements" and the promoter at the time.
Tickets to the shows are on sale now. Go here for more information.
Photos: Getty Images / Jim Crean 'Insatiable'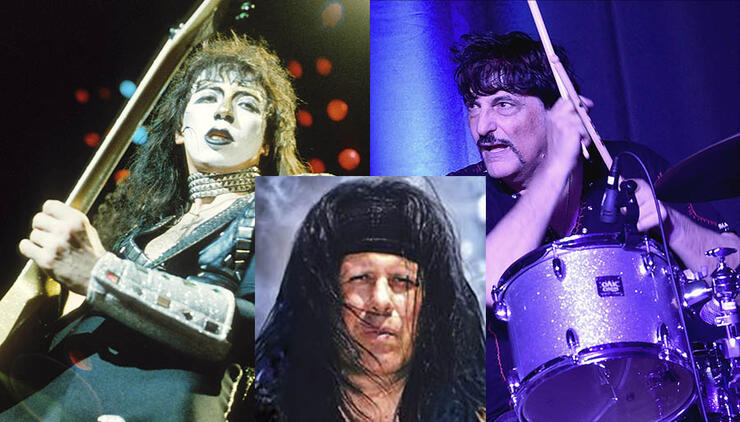 Chat About Vinnie Vincent's New Singer Hints at Tour Dates Beyond Comeback Shows