Did Kylie Jenner Just Confirm Her Marriage To Travis Scott?
By Peyton Blakemore
January 23, 2019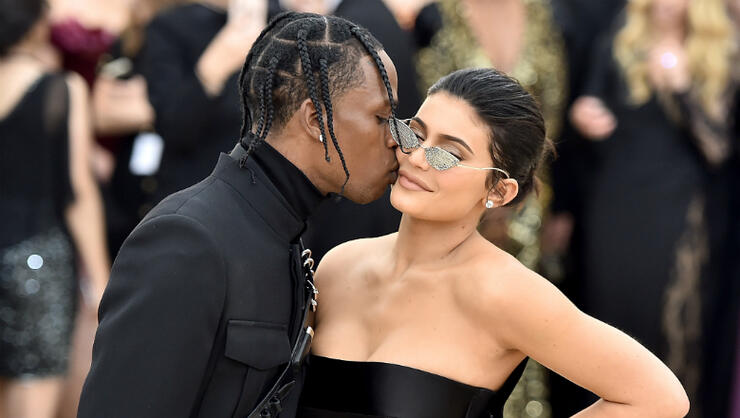 Looks like we might have to start calling Kylie Jenner Mrs. Webster.
By now, we all know that Kylie loves to call her boyfriend, Travis Scott, "hubby." (She's done it time and time again, and still, we freak out about) However, the timing of her latest husband shoutout has fans wondering if her beloved nickname for Travis may have actually become his new title.
The cosmetics business guru appeared to finally confirm rumors that she secretly got married to the "SICKO MODE" rapper when she shared a sexy image of herself to Instagram Tuesday (January 22) with the caption: "extraño a mi esposo." For those of you who need a brush up on their middle school Spanish, "extraño a mi esposo" translates into "I miss my husband" in English, which, of course, set the Internet ablaze. See, Kylie's been rocking quite the diamond ring on that finger for a few weeks, and she's been very coy about its meaning. Not only that, there have been countless rumors that she and Trav secretly tied the knot (or at the very least, got engaged) recently. So all that paired with this spicy caption has Kylie fans looking for answers.
While it could definitely be possible that Kylie's recent calling of Travis is just her continuing to troll us — we all know it wouldn't be the first time Kylie's kept a huge secret (who could forget that time she kept her entire pregnancy a secret?) — she did tease earlier this week that she had some big news to share. "I have something really exciting i get to share soon with you guys! I've been cooking this up for awhile i can't wait to share my new project alreadyyy 😁," she wrote on Twitter. For those of you who think the announcement is about her business, think again. When a fan asked if her big news is related to Kylie Cosmetics she said: "no😜😝😝." She also denied that the announcement is a partnership with another brand or pregnancy reveal.
Guess we'll have to wait and see if we'll be getting a Stormi-style announcement video soon.
Photo: Getty Images
Chat About Did Kylie Jenner Just Confirm Her Marriage To Travis Scott?