Cardi B Gets Emotional Talking About Her New Netflix Show: 'It's Very Hard'
By Peyton Blakemore
January 30, 2019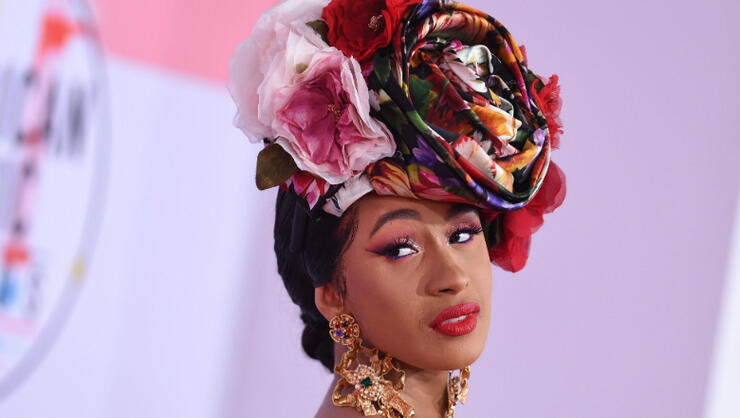 Cardi B is becoming emotionally invested in the participants of her music competition series, "Rhythm + Flow."
On Tuesday (January 29), the "Twerk" rapper got a little emotional while discussing how hard it's been judging the Netflix series, after admitting that she didn't expect to care so much for the contestants because she at first only signed on to judge the show for the large paycheck.
"Today has been one of the hardest days in filming," Cardi shared on Instagram. "These contestants they are so passionate, they're so good, but unfortunately there's only one winner." As fans know, back in November, the "Money" rapper announced that she, T.I. and Chance the Rapper would serve as judges for the forthcoming Netflix show. "When I did this show you know I was in it for the money," she admitted. "I can't believe I'm getting so emotional off this show. The connection that we're building with the contestants — it's very hard. I just want to say I'm proud of everybody. I'm so f**king sad like ya'll got a gansta f**ked up ya'll."
Cardi added: "I can't wait for you guys to see this show so ya'll can understand how I feel bc I'm in my mother f**king feelings."
As previously reported, T.I, Chance, and Cardi joined forces to find "unsigned, dedicated, and ready" artists for the forthcoming Netflix show, projected to air in Fall 2019. The trio will serve as the "main judges" for the streaming service's first music competition series and will be joined by other artists and industry vets throughout the 10 hourlong episodes.
T.I. previously explained what the series is about, saying, "Basically, we're going to travel the country in all of the hoods, all the studios, all the nightclubs, and even the barbershop, if necessary, to find the next unreleased, underground, hip-hop superstar... It's going to be a different approach than anything you've ever seen before. You've never seen a show like this and with us [as] judges the authenticity's going to be through the roof."
Cardi is up for several iHeartRadio Music Awards this year, including fan-voted categories like Best Fan Army presented by Taco Bell and Best Music Video. Fans can vote via Twitter using the appropriate category and nominee hashtags, or by visiting iHeartRadio.com/awards through March 7th (March 13th for Best Fan Army). Find out who will be taking home an award this year by tuning into FOX on March 14th where the show will be broadcast live from the Microsoft Theater in Los Angeles from 8-10pm ET/PT.
Photo: Getty Images
Chat About Cardi B Gets Emotional Talking About Her New Netflix Show: 'It's Very Hard'