Tekashi 6ix9ine Pleads Guilty To Nine Federal Counts
By Peyton Blakemore
February 1, 2019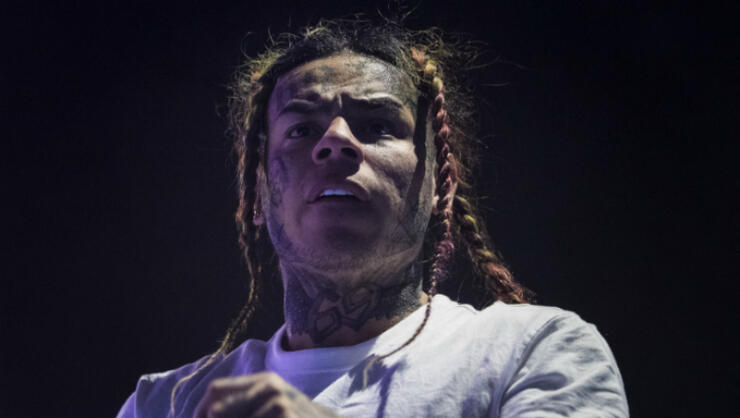 It looks like 6ix9ine may have struck a deal with the feds.
According to TMZ , the "STOOPID" rapper recently entered a guilty plea for nine federal chargers against him. 6ix9ine reportedly plead guilty to multiple counts of racketeering, conspiracy, firearms offenses and narcotics trafficking on January 23. It's unclear what sentence he'll face now after pleading guilty.
Earlier this week, Page Six reported that Tekashi may have cut a deal given the fact that new charges were recently filed, accusing him of being a violent gang member, but the 22-year-old rapper was not named as a defendant in the updated indictment. The lack of his name was an indication that he could be cooperating with the feds. While neither the US attorney's office nor Tekashi's lawyer confirmed if he had flipped on his "Nine Trey Gangasta Bloods" gang and started working with the feds, Paul Krieger , a former prosecutor in the Manhattan US attorney's office, told Page Six: "It could be that he may have pled guilty to a cooperation agreement. It's not unusual to do a cooperation agreement under seal to protect ongoing investigations, to protect witnesses or cooperating defendants."
As previously reported, the 22-year-old rapper is currently being held in a federal jail without bail. While it's unclear what sentence he'll have now after coping guilty pleas, he was previously facing 32 years to life , after being charged with six federal crimes (more charges were added while he was behind bars). He was initially accused of committing a string of crimes with five of his alleged Nine Trey gang members, including: "conspiracy with others to commit racketeering, discharging a firearm while committing a crime, committing a crime of violence in aid of racketeering, assault with a dangerous weapon, carrying a firearm, and committing a crime in aid of racketeering."
Last month, TMZ shared over a dozen photos of 6ix9ine, his ex-manager Kifano " Shotti " Jordan and other ex-members of his crew that seem to place them at the scene of several armed robberies and shootings. Cops reportedly grabbed videos from phones belonging to 6ix9ine and his crew members and were able to match them with surveillance videos from an April 3 armed robbery in Brooklyn. According to the feds, who filed the images as proof Tekashi should be held without bail, the photos prove Shotti pulled the robbery and Tekashi filmed it from across the street. The fed-taken photos also showed a bag that was stolen in that armed robbery in 6ix9ine's home during a September raid.
Photo: Getty Images
Chat About Tekashi 6ix9ine Pleads Guilty To Nine Federal Counts