Cardi B & Bruno Mars Get Sexy On Sensual New Song 'Please Me'
By Paris Close
February 15, 2019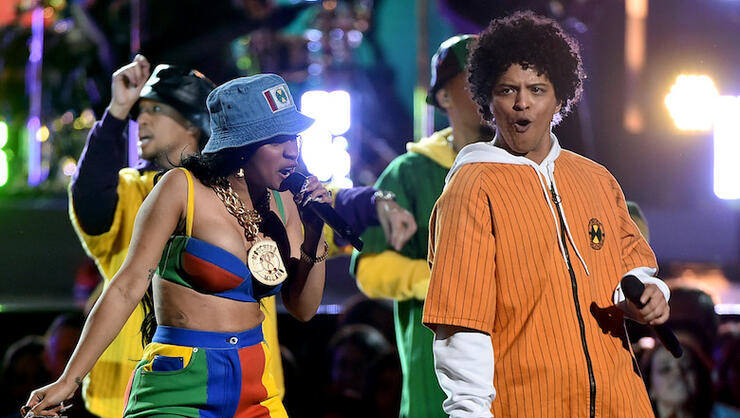 Cardi B and Bruno Mars have returned with one of the hottest songs of the year.
Last night saw the midnight premiere of "Please Me," the latest collaboration from Cardi and Mars. The track, produced by The Stereotypes and the R&B crooner himself, is an ode to sexual satisfaction, with coaxing lyrics begging for pleasure.
"Please me, baby/ Turn around and just tease me, baby/ You know what I want and what I need, baby," Mars sings in the chorus, in which the crooner moans "please" repeatedly before the 26-year-old rapper bursts into a slinky rhyme.
"On the dance floor, no panties in the way/ I take my time with it, bring you close to me/ Don't want no young dumb s**t/ Better f**k me like we listenin' to Jodeci," she raps in the opening verse, before shooting of a list of even more sexual favors.
"Please Me" celebrates the dynamic duo's second record together after Cardi hopped on Mars' 2016 track "Finesse" in January 2018. The "Bodak Yellow" lyricist announced its arrival earlier this week, days after taking a break from social media hate following her historic Grammy win at the annual music ceremony this weekend.
It may be too early to tell, but we're betting "Please Me" will be a chart-climber in no time.
Listen below.
Chat About Cardi B & Bruno Mars Get Sexy On Sensual New Song 'Please Me'