The Jonas Brothers Spill Secrets In Lie Detector Test On 'Carpool Karaoke'
By Hayden Brooks
March 8, 2019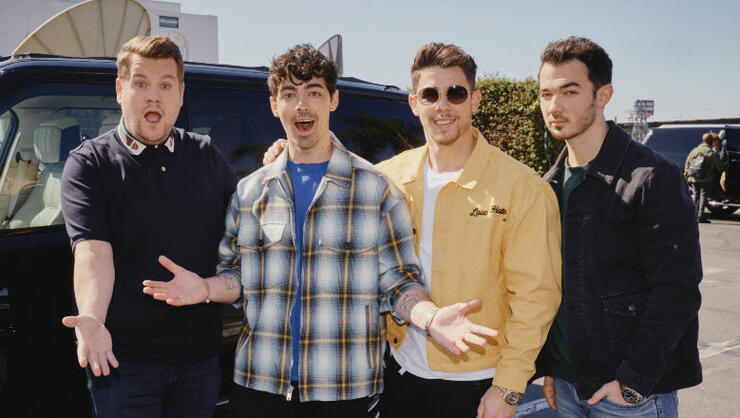 To cap off their week-long takeover on The Late Late Show with James Corden, the Jonas Brothers' anticipated installment of "Carpool Karaoke" dropped and it saw the pop trio speak about their much-buzzed about reunion, belt some throwback jams and even fail a lie detector test.
While seeing Nick, Joe and Kevin sing hits like "Burnin' Up" and "Year 3000" remained a true highlight, the best part of the 15-minute segment arrived when late-night host James Corden picked up a friend named John, who went into the car and wired the group up to a lie detector test. From there, it was full-on giggles as Corden hit them with all the juicy questions. "Are you a better singer than your brothers?" the 40-year-old comedian asked Nick in the segment, to which he disagreed and was called out for the lie. Joe got caught in his tracks when he denied that any of his brothers' wives "get on his nerves." He said no, but the test determined that's a lie. Meanwhile, Kevin was also a victim to the test when he said that he never thought about punching Nick for breaking up the band.
As they explained in our interview, the trio revealed that the idea for a reunion came together while they were working on a documentary. "Basically, about a year ago, we started talking about making a documentary together. That was how it started. Just to tell our story, you know, childhood into our career together," Nick explained in the clip. "And in that process, we did some very necessary healing 'cause, you know, when things ended it wasn't the best. Forced therapy on camera. And then in that, we started saying there was a magic when we were together that we would all love to feel again."
Thursday's episode also saw the trio offer the TV debut of their new single, "Sucker," which recently debuted on Billboard's Pop Songs radio airplay chart at the No. 28 position. This is their first entry back on the chart since 2013. Scroll on below to see the band's appearances during the broadcast!
Chat About The Jonas Brothers Spill Secrets In Lie Detector Test On 'Carpool Karaoke'