Cardi B Licks iHeartRadio Music Awards Trophy During Speech: Watch
By Paris Close
March 15, 2019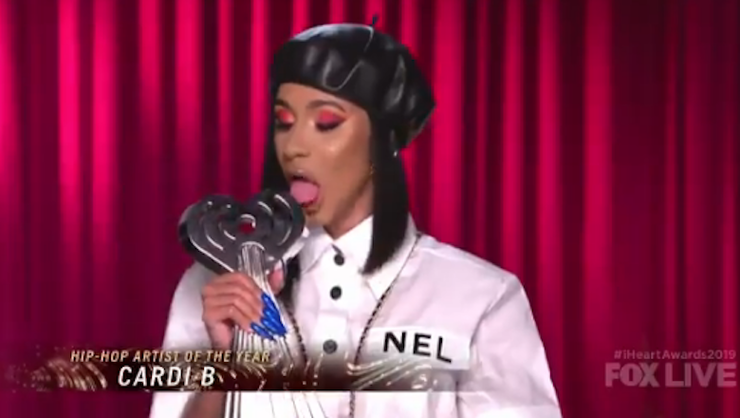 Victory tastes sweet, aye Cardi B?
The "Money" rapper took home the Hip-Hop Artist of the Year trophy at the 2019 iHeartRadio Music Awards on Thursday night (March 14), and celebrated her win in the most Bardi way ever: laughing — and licking! — off her haters. Although absent from the awards ceremony, the 26-year-old made sure to reach out via video to express her gratitude over winning the honor.
"I'm sorry, iHeartRadio, that I couldn't make it … I was busy doing a couple things," Cardi started her acceptance speech. "But I just want to say thank you so much to all my fans, to all my supporters and to all my haters."
"You know, I gotta thank my haters, you know what I'm saying. 'Cause y'all be saying mean things and y'all be thinking that those mean things is gonna discourage me but that just makes me go harder," the emcee continued. "Cause if everybody gives me compliments, then I get comfortable," Cardi goes on in the clip, bursting into a cackling laugh and her infamous "Okurr."
Shortly before closing her speech, though, the Bronx artist decided to rub it in her haters' faces even more by licking her trophy!
(Hi, haters! Bye, haters!)
Cardi B is also in the running for several other awards during tonight's show, including Song of the Year ("Girls Like You" with Maroon 5), Female Artist of the Year, and Hip-Hop Song of the Year.
Get live updates at iHeartRadio.com/awards and join the conversation as you watch live by using the hashtag #iHeartAwards2019 on social media.
Photo: FOX
Chat About Cardi B Licks iHeartRadio Music Awards Trophy During Speech: Watch