Felicity Huffman's Co-Star Slams Her Actions In College Admissions Scandal
By Emily Lee
March 18, 2019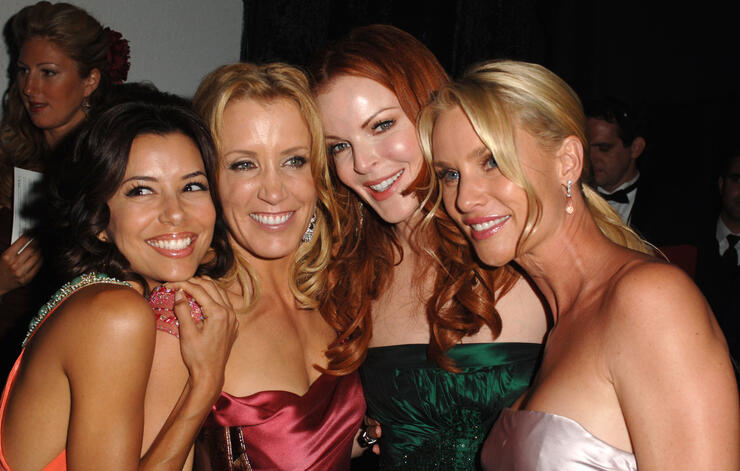 Following news that Felicity Huffman and her husband, William H. Macy, were allegedly involved in the college admissions scandal, one of her Desperate Housewives co-stars is speaking out about Huffman's actions. During an interview with Access Hollywood, Nicolette Sheridan called the bribery scheme "disgraceful" and believes "it's a huge problem."
Huffman was arrested by FBI agents with guns drawn last week and subsequently charged with mail fraud for allegedly paying a man named William Singer $15,000 to get an SAT proctor to change her daughter's incorrect answers on the test after she completed the standardized test. While Sheridan did not mention her longtime co-star by name, she spoke at length about the scandal.
"I mean…We don't know the facts," Sheridan said. "But we can be extremely disturbed by the entitlement, the power and money that can take away from less privileged. And that to me is disgraceful."
"So…we'll see where it really stands. I think there are ways to remedy a system that isn't working and I think has been broken for a long time," she continued. "So, I don't want to get into how to fix it…it's troublesome. It can change the lifestyle of a child who is deserving. I think everybody should be talking about it. It's a huge problem."
When asked if she'd been discussing the scandal with her other Desperate Housewives cast members, Sheridan brushed off the question by saying "You're just looking for gossip, aren't you!"
Photo: Getty
Chat About Felicity Huffman's Co-Star Slams Her Actions In College Admissions Scandal