Lori Loughlin Jokes About Paying For Olivia's Education In Resurfaced Video
By Peyton Blakemore
March 18, 2019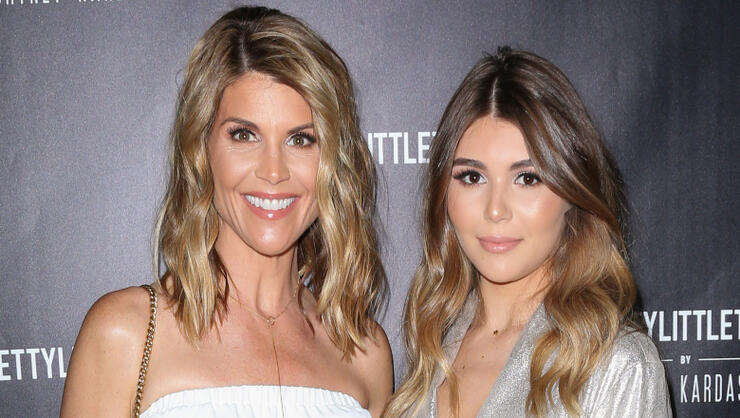 Lori Loughlin's past comments are coming back to haunt her.
A year-old video of the former Fuller House star joking about the money she spent on her daughter Oliva Jade's education has resurfaced.
In a nearly 12-minute clip from December 2017 — filmed when Olivia was still in high school — titled "TEACHING MY MOM SLANG TERMS OF 2017," Olivia tests her mom's knowledge of current slang. After quizzing Lori on a few terms — including "fire," "thot," and "finesse" — Olivia moves on to the phrase "England is my city."
"Did you hear that?" Olivia asked her mother. "England is my city."
"England is not a city," Lori replied.
"I know, that's why it's so, so, so iconic on YouTube," Olivia explained, before adding, "Well, it's not iconic at all, it's just really dumb."
"If you would have said, 'England is my city,' I would say, 'Why did I pay all this money for your education?'" Lori joked, before hysterically laughing.
"We're going to leave it at that," Olivia said before moving on to the next term.
As fans know, Lori and her husband Mossimo Giannulli were charged in an alleged college admissions cheating scam last week. The two are among dozens of wealthy parents accused of scamming elite colleges and universities to get their children in. Lori and Mossimo allegedly paid $500,000 to make it look like their daughter had been a rower. They were arrested on a felony charge of conspiracy to commit mail fraud and honest services mail fraud.
Since news of the scandal, past vlogs from Olivia's prominent Youtube channel have been called into question. In May 2018, Olivia said in a video that school was not her top priority. "I'm, like, excited to go… do the school prank," she said in a clip that documented her last day in high school. "But I'm also literally never at school that I think my class doesn't even — and maybe they forget I go there!"
The 19-year-old college freshman also faced backlash for a video filmed during her first weeks at the University of Southern California. "I don't know how much of school I'm gonna attend but I'm gonna go in and talk to my deans and everyone, and hope that I can try and balance it all," she said. "But I do want the experience of like game days, partying…I don't really care about school, as you guys all know."
Photo: Getty Images