Kylie Jenner Has 'Given Up' On Friendship With Jordyn Woods: Report
By Paris Close
March 21, 2019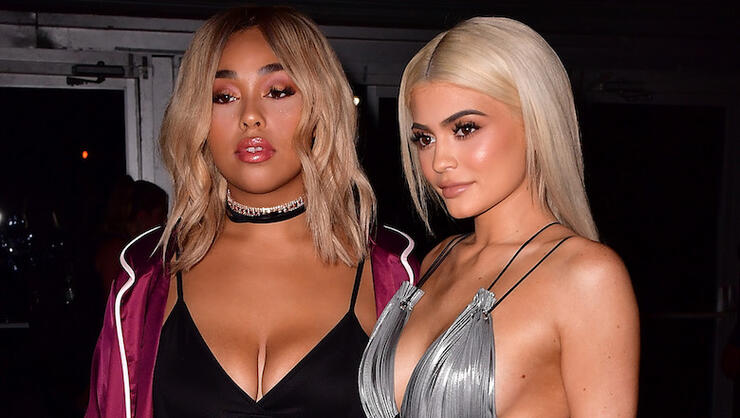 It's over.
Kylie Jenner is no longer making efforts to patch up her friendship with Jordyn Woods since the aspiring model confessed to making out with NBA player Tristan Thompson, who was still with Kylie's big sister Khloe Kardashian at the time of the cheating scandal.
Apparently, "Kylie's given up on making up and is moving on," reports TMZ. Insiders told the celebrity gossip outlet that the Kylie Cosmetics businesswoman has not made "any progress" in repairing her "fractured relationship" with Woods in recent weeks. Sources says the distance has everything to do with the latter's Red Table Talk tell-all, as that was the last time the once-inseparable besties had (albeit barely) communicated with each other.
In fact, TMZ reports that the interview "had the opposite effect" of earning back Kylie's trust, and that it only made her "more steadfast than ever" to see Woods' betrayal would always be a hindrance on their friendship.
Additionally, despite having been asked to move out to live back home with her mother days after the controversy broke, Woods' belongings are supposedly still at the reality star's place — and she's officially ready for her to come grab her bags and go for good.
This doesn't come as a surprise, as earlier reports appear to coincide with the fact that Jenner has moved on and looking for more friends in light of all the drama that's unfolded.
"Kylie has had a rough few weeks," a source told PEOPLE on Wednesday (March 20). "She is still upset about the Jordyn situation, although she seems to be doing much better. She has been socializing more and trying to find a bigger circle of friends that she can be close with. After the Jordyn drama, she realized that relying on just one friend is not the best idea."
Photo: Getty Images
Chat About Kylie Jenner Has 'Given Up' On Friendship With Jordyn Woods: Report