Jon Anderson Reveals Music Video For Breezy New Song "Makes Me Happy"
By Andrew Magnotta @AndrewMagnotta
March 28, 2019
Jon Anderson has released a music video for his new song, "Makes Me Happy," just days ahead of the release of his new album.
The album, 1,000 Hands, is available March 31. The Rock and Roll Hall of Famer and former Yes front man began working on the album in 1990 before shelving it to reform Yes.
Named in reference to the dozens of musicians who contributed to the record over the years, 1,000 Hands also represents a reunion of sorts between Anderson and his longtime Yes band mates, guitarist Steve Howe and drummer Alan White. The record also includes contributions by Jethro Tull's Ian Anderson and members of Deep Purple, among many others.
The lighthearted new track, "Makes Me Happy," features contributions from Rick Derringer and the Tower of Power horn section.
Anderson says the video shoot was totally impromptu, which is appropriate given the song's sunny vibe.
"I am very excited for people to hear and see this crazy wonderful video, created by my daughter Deborah and my wife Janee on the spur of the moment one day at home," Anderson said in a statement. "It shows things that make me happy and you can see how much fun we were having by the look on my face. It was hilarious!"
While Jon's solo tour in support of the new album is about to begin, he has also said that he hopes to return to Yes in the near future and do one more album with the legendary progressive rock outfit.
Thumbnail Photo: Getty Images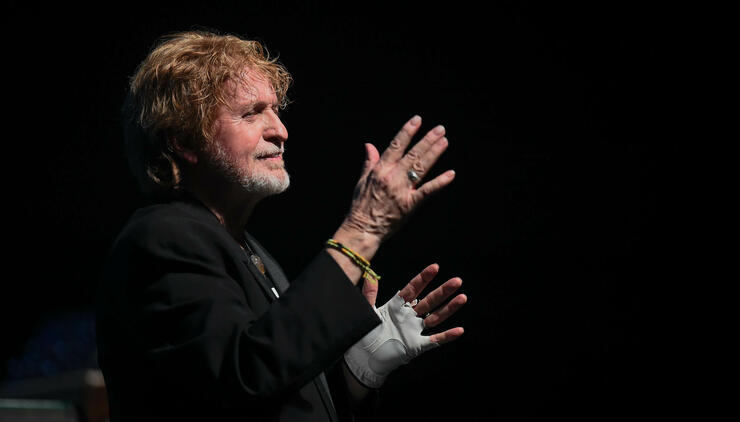 Chat About Jon Anderson Reveals Music Video For Breezy New Song "Makes Me Happy"