Julia Michaels, Niall Horan Strip Down 'What A Time' In New Acoustic Video
By Hayden Brooks
March 29, 2019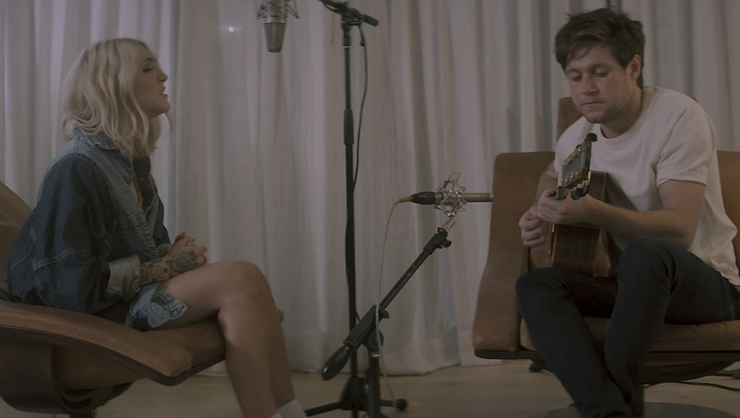 Julia Michaels and Niall Horan's sentiment behind their heartbreak duet, "What a Time," is even stronger when stripped of the studio bells and whistles.
On Friday (March 29), a new video for the single dropped and it features the One Direction bandmate, who didn't appear in the original clip. It's a fairly low key visual to match the energy of the track, with the pair performing the song in front of one another at a studio. Scenic clips flash in and out of the video, but the pop stars' raw vocals remain the true stars of this collaboration. "What a Time" is featured on the singer/songwriter's Inner Monogue Part 1 EP, which also includes "Anxiety," her team-up with Selena Gomez. You can catch Michaels on her first-ever solo headlining tour, as well as her opening set for Pink's "Beautiful Trauma World Tour."
Speaking of duets, Michaels' other buzzing collab, "Peer Pressure," with James Bay also saw its music video drop on Friday. Similar to "What a Time," the approach to this clip is a very simple one as viewers see the two performing the song on a dark stage with a projection of imagery flashing on top of them. It appears to have been shot at the same time that their live performance clip was filmed. Click here to get a double dose of Michaels!
Photo: YouTube/Julia Micahels
Chat About Julia Michaels, Niall Horan Strip Down 'What A Time' In New Acoustic Video