Pink Slams 'Disgusting' Trolls Criticizing Photo Of Son Without A Diaper
By Paris Close
April 1, 2019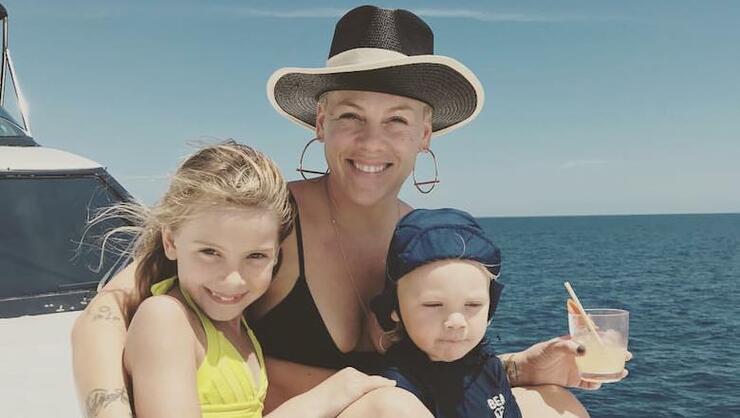 Pink had time to put mom-shamers in their place this weekend.
The "Hustle" singer, who has been heavily criticized for her parenting skills on social media lately, finally had enough of it when her detractors faulted her for sharing an image of her two-year-old son, Jameson, without his diaper near a swimming pool Sunday (March 30).
Unaware at the time, Pink took the image down and re-shared the controversial pic — this time with scribbles covering Jameson's diaperless frame — but not without giving haters a piece of her mind for the "f**king disgusting" comments they left on the snapshot.
"There's something seriously wrong with a lot of you out there. Going off about my baby's penis? About circumcision??? Are you for real?" the 39-year-old wrote. "As any normal mother at the beach, I didn't even notice he took off his swim diaper."
"I deleted it," Pink added, "And now I'm turning off my comments and shaking my head at the state of social media and keyboard warriors."
"And the negativity that you bring to other people's lives," she continued, before signing off with a bit of sarcasm: "Here's a picture of the pelican we obviously caught and abused for hours before dangling baby penis in its face."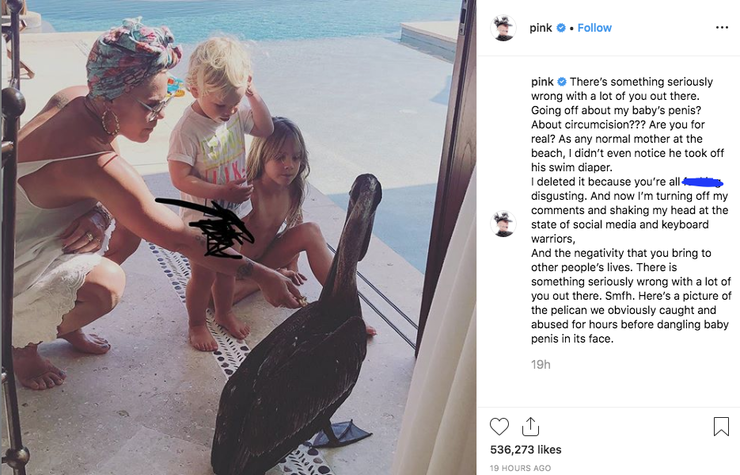 The "Walk Me Home" artist has had it rough with letting fans into her family life on social media. A few weeks ago, Pink had to check a commenter for shaming her choice to share an image of her family dinner on Instagram. "Yes I like to promote healthy stuff," she wrote in defense of her post. "I also like to remind people to stop being TOTAL DOUCHE BAGS TOO. Consider this your reminder F**ko."
Photo: Instagram/Pink
Chat About Pink Slams 'Disgusting' Trolls Criticizing Photo Of Son Without A Diaper